Publication:
Dónde demandar frente a actividades ilícitas en línea: perspectivas de evolución de la jurisprudencia del Tribunal de Justicia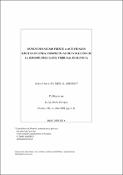 Authors
Advisors (or tutors)
Editors
Abstract
Al hilo del asunto C-251/20, Gtflix Tv, pendiente ante el Tribunal de Justicia, se valoran las perspectivas de evolución de su jurisprudencia relativa al lugar de manifestación del daño como criterio atributivo de competencia en demandas relativas a la responsabilidad extracontractual derivada de actividades ilícitas en línea. El mantenimiento de ese criterio combinado con la superación en las situaciones típicas de la mera accesibilidad de los contenidos como elemento suficiente con carácter general para apreciar que en el Estado miembro e cuestión se localiza "el lugar donde se haya producido o pueda producirse el hecho dañoso" a los efectos del artículo 7.2 RBIbis se considera que es el enfoque adecuado.
In connection to pending case C-251/20, Gtflix Tv, this contribution assesses the prospects for the evolution of the case-law of the Court of Justice concerning the place where the damage materialised as a criterion for granting jurisdiction in claims relating to tort liability arising from unlawful online activities. The maintenance of this criterion combined with the overcoming in typical situations of the mere accessibility of the contents as a generally sufficient element for attributing competence is considered to be the appropriate approach.
Collections