Publication:
Nuevos análisis traceológicos, arqueométricos y petrológicos de material metálico y lítico recuperado en un lugar sagrado de la Cultura de las Motillas: Castillejo del Bonete (Terrinches, Ciudad Real)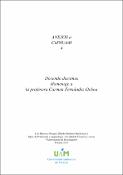 Advisors (or tutors)
Editors
Publisher
Universidad Autónoma de Madrid
Abstract
Castillejo del Bonete es fue un lugar sagrado utilizado durante el III y II milenios cal BC al sur de La Mancha. Se usó como monumento de culto y funerario; dispone de corredores y construcciones orientados a los solsticios. Los resultados de su estudio han sido publicados en revistas científicas nacionales e internacionales. El trabajo aquí presentado aporta los recientes resultados del estudio analítico de diferentes clases de materiales arqueológicos selectos depositados en este lugar: estelas funerarias, cuentas, útiles metálicos y líticos. En cuanto a la piedra tallada, se han llevado a cabo análisis de uso en diferentes piezas. Respecto a la piedra pulida, se ha desarrollado un análisis con microscopio electrónico de barrido de una cuenta de caolinita roja, así como análisis traceológicos de brazales de arquero. Análisis paleontológicos y petrológicos se han realizado sobre una estela funeraria encontrada en el interior de la cueva mortuoria. Esta serie de analíticas realizadas sobre materiales selectos se añade a las hasta ahora existentes, ya publicadas. En el estado actual de conocimientos es posible afirmar que la cultura material enterrada en Castillejo del Bonete en su mayor parte no difiere de la utilizada durante la vida cotidiana, pero fue amortizada para ser puesta al servicio de un ritual que giró en torno a los ancestros y un culto solar. Esa tradición prolongó durante las Edades del Cobre y el Bronce, siendo un reflejo de los inicios de la jerarquización social y de la monumentalización del territorio al sur de la Meseta.
Castillejo del Bonete is a sacred place used during the III and II millennia cal BC south of La Mancha. It was a funerary and religious monument; has corridors and constructions oriented to the solstices. The results of its study have been published in national and international scientific journals. The work that is presented here provides the results of the analytical study of different kinds of selected archaeological materials deposited in this site: funeral steles, beads, metal and lithic tools. For the carved stone we have developed analysis of trace of use. Regarding the polished stone, an analysis with electronic scanner microscope of a red kaolinite bead has been carried out, as well as traceological analysis of archer's armbands. Paleontological and petrological analysis have been performed on a funeral stele found inside the mortuary cave. This series of analytics done on selected materials is added to those already published. In the current state of knowledge it is possible to affirm that most of the material culture buried in Castillejo del Bonete does not differ from the one used during everyday life, but it was amortized to be placed at the service of a ritual around the ancestors and a solar cult. This tradition lasted during the Copper and Bronze Ages, reflecting the beginnings of social hierarchy and the monumentalization of the territory south of the Plateau.
Collections