Publication:
Inferencia de distribución geográfica de jornadas laborales en la ciudad de Madrid a partir de datos de movilidad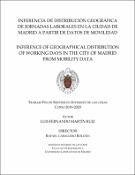 Authors
Advisors (or tutors)
Editors
Abstract
Actualmente, millones de madrileños utilizan el transporte público para ir al trabajo cada día; ya sea metro, Renfe, autobuses de EMT o autobuses interurbanos. Para hacerlo, todos ellos emplean la tarjeta de transporte sin contacto. Una misma tarjeta permite a los usuarios el acceso a todos los medios de transporte público. Esta tarjeta tiene distintos formatos, puede ser mensual (ilimitada durante 30 días) o disponer de un número predeterminado de viajes, bajo recarga, sin límite de tiempo (tarjeta Multi). Partiendo de los datos generados por estas tarjetas recogidos por algunas estaciones de metro, este trabajo pretende buscar la relación entre la zona geográfica en que se haya la estación y otros parámetros. Por ejemplo, el tiempo transcurrido desde que una persona inicia un viaje por la mañana hasta su trabajo, y el inicio del viaje de vuelta hasta su casa; o si el usuario trabaja durante fin de semana o no. De la misma forma, esta investigación también pretende determinar si estos parámetros están vinculados a la renta per cápita media de la zona en la que el usuario vive. A lo largo del trabajo de investigación se explicará el procedimiento seguido para obtener la información, a partir de una compleja base de datos Big Data. De igual forma, se presentarán los métodos de aprendizaje automático que han sido necesarios para poder comprobar la existencia de estas relaciones.
Nowadays, millions of citizens from Madrid use public transport to go to work every day; whether by metro, Renfe, EMT buses or intercity buses. To that end, they use the contactless transport card. The same card allows users access to all types of public transport. This card has different formats, it can be monthly (unlimited for 30 days) or have a predetermined number of trips, under recharge, without time limit (Multi). Based on the data generated by these cards collected by some metro stations, this work lookup the relationship between the geographical area where is placed the station and other parameters. For example, the time elapsed from the moment a user starts a journey in the morning to work, and the start of his journey back home; or if the user works on weekend or not. In the same way, determining if these parameters are linked to the average per capita income of the area where the user lives. Throughout this doc, the procedure followed to obtain the information will be explained, based on a complex Big Data will database. As well as, the machine learning methods that have been necessary to verify the existence of these relationships will be presented.
Description
Máster en Internet de las Cosas, Facultad de Informática UCM, Departamento de Sistemas Informáticos y Computación, Curso 2019/2020.
UCM subjects
Informática (Informática)