Person:
Juárez Martín-Delgado, Ignacio
Affiliation
Universidad Complutense de Madrid
Department
Inmunología, Oftalmología y ORL
Identifiers
Search Results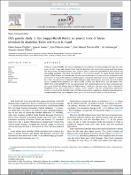 HLA genetic study in Iran Saqqez-Baneh Kurds: no genetic trace of Aryan invasions in Anatolian Turks and Kurds is found
2022-08-03, Suarez Trujillo, Fabio, Juárez Martín-Delgado, Ignacio, Palacio Grüber, José Manuel de, Martin Villa, Jose Manuel, Amirzargar, Ali, Arnaiz Villena, Antonio
Kurds are living at Middle East region comprising several countries (38 million people) and also have emigrated to Asia, Europe and America. Kurds from Iran have been HLA typed in the present work from Saqqez and Baneh towns, Kordestan province, Iran. Origin of Kurds is considered autochthonous from Anatolia and surrounding mountains :they have been referred as "the mountain people" by classic Persian, Greek and Roman authors. Present day Turks are also autochthonous from Anatolia, but they were not recognized by classical authors as living in the mountains and they speak a language of Asian origin that was imposed to Anatolia by a "elite" invasion without a noticeable high Asian gene input. Most frequent class I and class II HLA alleles found in Iranian Kurds population are: HLA‐A*24:02, A*02:01 and HLA‐B*35:01, and HLA‐DRB1*11:01, DRB1*03:02 and HLA‐DQB1*03:01; also, most frequent HLA extended haplotypes from this Iran Kurdish sample are not shared with Iranians but with Mediterranean, Turkish and Caucasus people. This is confirmed by Neighbour‐Joining and correspondence analysis studied together with the corresponding populations. Finally, our studies show that both Kurds and Turks are genetically original from Anatolian Peninsula and surrounding countries and that an apparent Asian genetic or Aryan invasion does not exist in the area.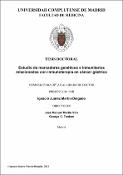 Estudio de marcadores genéticos e inmunitarios relacionados con inmunoterapia en cáncer gástrico
2021-07-12, Juárez Martín-Delgado, Ignacio, Martín Villa, José Manuel, Tsokos, George C.
El cáncer es una enfermedad multifactorial con una serie de características definitorias: mantenimiento de las señales de proliferación, resistencia a la muerte celular, inmortalidad replicativa, inducción de angiogénesis, motilidad y metástasis, inestabilidad genómica y mutación, inflamación pro-tumoral, reprogramación del metabolismo energético y evasión de la respuesta inmunitaria antitumoral. Como parte de esta última característica, destaca la implicación del sistema inmunitario en la respuesta antitumoral, siguiendo un proceso denominado inmunoedición, que se compone de tres fases: eliminación del tumor por parte del sistema inmunitario, equilibrio entre la respuesta inmunitaria y los mecanismos supresores del tumor y, finalmente, escape del tumor e invasión de tejidos adyacentes y distales. El cáncer gástrico es el quinto tipo de tumor más frecuente en la población mundial, con más de un millón de muertes anuales en todo el mundo. Es uno de los tumores con mayor prevalencia de mutaciones somáticas, lo que facilita la formación de neo-antígenos tumorales y hace susceptible estos tumores para su tratamiento con diversos tipos de inmunoterapia. La inmunoterapia comprende una serie de tratamientos que promueven la estimulación del sistema inmunitario tendentes a la prevención o tratamiento de una enfermedad. La inmunoterapia contra el cáncer tiene como objetivo el bloqueo de vías de señalización protumorales, así como la estimulación (directa o indirecta) de la respuesta inmunitaria contra los tumores. En el caso concreto del cáncer gástrico, el tratamiento con anticuerpos bloqueantes de HER2 (trastuzumab) se emplea en emplea en pacientes HER+, mientras que los inhibidores de puntos del control del sistema inmunitaria únicamente están aprobados para el tratamiento de pacientes en estadios muy avanzados de la enfermedad, con enfermedad diseminada, y refractarios a quimio y radioterapia. La dificultad para el tratamiento de estos pacientes radica en la correcta determinación de biomarcadores que identifiquen a pacientes susceptibles de recibir inmunoterapia...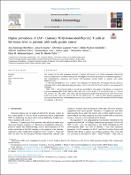 Higher prevalence of LAP+ (Latency TGFβ-Associated Peptide) T cells at the tissue level in patients with early gastric cancer
2022-10-28, Aguinaga Barrilero, Ana, Juárez Martín-Delgado, Ignacio, Vaquero Yuste, Christian, Molina Alejandre, Marta, Gutiérrez Calvo, Alberto, Lasa, Inmaculada, López, Adela, Gómez, Remedios, Molanes López, Elisa M., Martin Villa, Jose Manuel
The presence of cells with regulatory functions in patients with cancer is one of the mechanisms whereby the immune system cannot confront tumor growth. We sought to determine the prevalence of immunoregulatory Tcell subpopulations, expressing the latency TGFβ-associated peptide (LAP), in patients with gastric adenocarcinoma. T cells were enriched from blood or gastric tissue (tumoral, TT or tumor-free, TF) samples from 22 patients, 6 with early (EGC) and 16 with advanced gastric cancer (AGC). CD4, CD8, LAP, FoxP3 and IFN-γ were measured by cytometry. CD8 + LAP + cells were increased at tumoral sites, especially in early stages of the disease, as compared to tumor-free explants (EGC 5.28 % [4.67–6.64]*; AGC 2.90 % [1.37–4.44]; TF 3.14 % [2.33–4.16]; *p < 0.05 vs TF). Likewise, the LAP+/CD8 + LAP- ratio is increased in gastric samples from patients with early disease (EGC 0.38 [0.30–0.45]*, AGC 0.12 [0.07–0.14]; TF 0.12 [0.09–0.31]; *p < 0.05 vs AGC). Disease progression is accompanied by decreased LAP membrane expression and, probably, increased LAP secretion, therefore limiting the response to the tumor.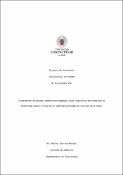 Competición de pósters científico/divulgativo como experiencia de inmersión al aprendizaje activo e integral por parte del alumnado de Ciencias de la Salud
2018-06-05, Redondo-Muñoz, Javier, Regueiro González-Barros, José Ramón, Monroy Muñoz, Francisco, Gómez del Moral Martín-Consuegra, Manuel María, Marín Marín, Ana Victoria, Medrano García, Sandra, Juárez Martín-Delgado, Ignacio, Briones Contreras, Alejandro, Martín Adrados, Beatriz, Lafuente Duarte, María Esther, Recio Hoyas, María José, Castro Sánchez, Patricia, Cárdenas Mastracusa, Paula, Martínez Quiles, Narcisa, Sánchez-Mateos Rubio, María Paloma
Se implementará una actividad de desarrollo en grupos de alumnos de pósters científicos y divulgativos. Dicho aprendizaje facilitará la adquisición de competencias personales e interpersonales por parte del alumnado y fomentar futuras interacciones internacionales.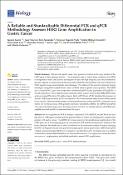 A Reliable and Standardizable Differential PCR and qPCR Methodology Assesses HER2 Gene Amplification in Gastric Cancer
2021-06-10, Juárez Martín-Delgado, Ignacio, Toro Fernandez, Juan Francisco, Vaquero Yuste, Christian, Molina Alejandre, Marta, Lasa, Inmaculada, Gomez, Remedios, Lopez, Adela, Martin Villa, Jose Manuel, Gutierrez, Alberto
We have applied two PCR techniques, differential PCR (diffPCR) and qPCR for the identification of HER2 gene amplifications in genomic DNA of tumor and distal gastric samples from patients with gastric cancer. The diffPCR technique consists of the simultaneous amplification of the HER2 gene and a housekeeping gene by conventional PCR and the densitometric analysis of the bands obtained. We established a cut-off point based on the mean and standard deviation analyzing the DNA of 30 gastric tissues from patients undergoing non-cancer gastrectomy. diffPCR and qPCR yielded consistent results. HER2-overexpression was detected in 25% of patients and was further confirmed by immunohistochemistry and immunofluorescence. The approaches herein described may serve as complementary and reliable methods to assess HER2 amplification.