Person:
Castañares Burcio, Wenceslao
Affiliation
Universidad Complutense de Madrid
Faculty / Institute
Ciencias de la Informacion
Identifiers
Search Results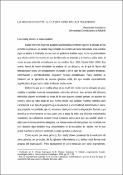 La vida en directo: el último espectáculo televisivo
2003, Castañares Burcio, Wenceslao, Universidad de Guadalaja (México), D.R. Universidad de Guadalajara
En este artículo se hace un análisis de uno de los realy shows de mayor éxito en España: Gran Hermano. Después de hacer una breve historia de este género televisivo, se trata de resaltar algunas de sus características definitorias. Una de ellas, la transparencia, es el objeto central del análisis. El ideal de transparencia es examinado a luz de las teorías del panóptico de J. Betham y F. Foucault. Sin embargo, lo que vemos en la televisión no es más que una realidad construida bajo una transparencia engañosa. Lo que vemos parece auténtico, pero no es real en sentido estricto. La televisión ha construido una representación que está entre la realidad y la ficción. La televisión nos permite, pues, poner de manifiesto que lo real y lo ficticio no son dos conceptos opuestos, sino los dos extremos de un segmento que actúan como polaridades a las que el mundo de las representaciones puede acercarse más o menos. De forma más concreta, los reality shows constituyen un género que ha contribuido de forma determinante a eliminar las distinciones entre realidad y ficción, entre representación y representado, entre información y entretenimiento, entre verdad y autenticidad, entre lo público y lo privado, entre destinador y destinatario, entre personaje y lector.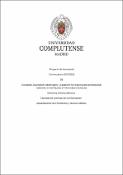 European Journalism Observatory- a platform for training and professional networks in the Faculty of Information Sciences
2018-06-21, Jivkova Semova, Dimitrina, Segovia Alonso, Ana, Aladro Vico, Eva, Padilla Castillo, Graciela, Requeijo Rey, Paula, Fouce Rodríguez, Héctor, Sosa Sánchez, Roxana Popelka, Tarancon Casado, Josefina, Velasco Carriedo, Dario, Pacheco Pailahual, Stefanie Katleen, Añover García, Aaron, Peña-Marín Beristain, Cristina, Castañares Burcio, Wenceslao, Saiz Echezarreta, Vanesa, Jurado Mata, Ana, Roca de la Concha, Clara Matilde, Marc Martínez, Isabelle, Soto Reguera, Sergio, González Falagan, Alejandro, Pedro Carañana, Josep Ramon, Fernández Vázquez, Guillermo, Álvarez Peralta, Miguel, Risueño Neila, Iván, Cabedo Figueredo, Francisco Javier, Monreal Amoros, Carolina, Alonso Salas, María Teresa, Socas Morales, Romina, España Gallardo, Laura, Pedro Carañana, Joan, Álvarez García, David, Del Val Ripollés, Fernán, Leste Moyano, José Eduardo, Arroyo Hernández, Judith
The launching of a Spanish platform within the Observatory will serve as a training laboratory for undergraduate and graduate students of the Faculty of Information Sciences at the same time as for establishing a professional media network in and outside Spain. The European Journalism Observatory (EJO) is a network of 14 non-profit media research institutes in 11 countries where Spain continue to be the missing element. All researchers in the EJO network actively strive to transfer their knowledge to the media industry as well as interested publics outside the scientific community, as a platform to enable online availability of at least a portion of many publications in several languages.