Publication:
Political influence in public procurement: balancing between legality and illegality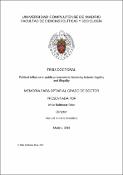 Files
Authors
Advisors (or tutors)
Editors
Publisher
Universidad Complutense de Madrid
Abstract
El daño causado a nivel Europeo por la corrupción en la contratación pública se sitúa en miles de millones de euros. Las irregularidades en la contratación pública son una de las causas más comunes de errores administrativos y correcciones financieras relacionadas con la financiación de la Unión Europea (UE). En consecuencia, las normas de la UE en materia de contratación pública establecen un marco legislativo a escala Europea destinado a mejorar la transparencia. En 2015, la Comisión Europea lanzó un proyecto para implicar a la sociedad civil en la promoción de la transparencia, la prevención de la corrupción y la creación de una cultura de integridad en la contratación pública a través de los fondos Europeos. El proyecto puso en marcha en 2016 el diseño y la ejecución de 17 iniciativas de acción colectiva en 11 estados miembros de la UE. El instrumento utilizado para estas iniciativas es el Pacto de Integridad. Se trata de un instrumento de acción colectiva basada en un acuerdo entre las autoridades de contratación pública y las empresas que participan en un proceso de contratación pública. Los participantes se abstendrán del soborno, la colusión y otras prácticas corruptas durante el proceso de contratación y a lo largo de la implementación del contrato. El tercer actor del Pacto de Integridad es normalmente una organización de la sociedad civil que se encarga de supervisar todas las actividades...
The estimated damage of corruption in public procurement on the European Union (EU) level runs into the billions of Euros. Procurement irregularities are one of the most common causes of administrative errors and financial corrections relating to EU funding. As a result, the EU procurement rules establish a EU-wide legislative framework aiming to enhance transparency. Nonetheless, in 2015, the European Commission launched a project in order to involve civil society in promoting transparency, preventing corruption and creating a culture of integrity in public procurement of EU funds. The project launched in 2016 the design and implementation of seventeen collective action initiatives in eleven EU Member States. The tool used for these initiatives is the Integrity Pact. This is a collective action tool on the basis of an agreement between contracting authorities and companies participating in a procurement process. Participants are to abstain from bribery, collusion and other corrupt practices for the extent of the contract. A third party to the Integrity Pact, often a civil society organisation is assigned to monitor all the activities...
Description
Tesis inédita de la Universidad Complutense de Madrid, Facultad de Ciencias Políticas y Sociología, leída el 11-05-2017
Collections