Publication:
Sterilization of Biological Weapons in Technical Clothing and Sensitive Material by High-Pressure CO2 and Water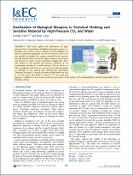 Advisors (or tutors)
Editors
Publisher
American Chemical Society
Abstract
This work explores the effectiveness of highpressure CO2 on inactivation of Bacillus thuringiensis spores as a surrogate of B. anthracis spores (anthrax). The investigation was done in combatant equipment and several electronic devices. It was possible to sterilize this sensitive material by the environmentally friendly mixture formed by high-pressure CO2 and water. The presence of water in mass proportions ranging from 20 to 30% relative to the material was essential. However, it was continuously introduced in small amounts (<4% in relation to CO2), entrained by the CO2, so as not to have an adverse impact on materials. A low external pH enhanced the inactivation. Therefore, by using CO2 mixed with water acidified with citric acid to 3.3, the spores were killed at only 45 °C. The much less aggressive conditions of the treatment allowed preservation of the quality of the technical fabrics and the functionality of the electronic devices.
Collections