Publication:
A wide family of singularity-free cosmological models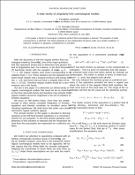 Advisors (or tutors)
Editors
Publisher
American Physical Society
Abstract
In this paper a family of nonsingular cylindrical perfect fluid cosmologies is derived. The equation of state corresponds to a stiff fluid. The family depends on two independent functions under very simple conditions. A sufficient condition for geodesic completeness is provided.
Description
©2002 The American Physical Society. The present work has been supported by Dirección General de Enseñanza Superior Project PB98-0772. The authors wish to thank F. J. Chinea, F. Navarro-Lérida, and M. J. Pareja for valuable discussions.
Citation
[1] J.M.M. Senovilla, Phys. Rev. Lett. 64, 2219 (1990). [2} E. Ruiz and J.M.M. Senovilla, Phys. Rev. D 45, 1995 (1992). [3] J.M.M. Senovilla, in El Escorial Summer School on Gravitation and General Relativity 1992: Rotating Objects and Other Topics, edited by F.J. Chinea and L.M. González-Romero (Springer- Verlag, Berlin, 1993). [4] D. Kramer, H. Stephani, M. MacCallum, and E. Herlt, Exact Solution's of Einstein's Field Equations (Cambridge University Press, Cambridge, England, 1980). [5] F. John, Partial Differential Equations, 4th ed. (SpringerVerlag, Berlin, 1982). [6] L. Fernández-Jambrina, Class. Quantum Grav. 14, 3407 (1997). [7] S.W. Hawking and G.F.R. Ellis, The Large Scale Structure of Space-time (Cambridge University Press, Cambridge, England, 1973). [8] L. Fernández-Jambrina and L.M. González-Romero, Class. Quantum Grav. 16, 953 (1999). [9] A.F. Agnew and S.W. Goode, Class. Quantum Grav. 11, 1725 (1994)
Collections