Publication:
Gobernanza del agua en México 1984-2014: derecho humano al agua, relaciones intergubernamentales y la construcción de ciudadanía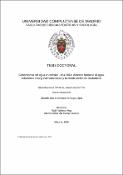 Files
Advisors (or tutors)
Editors
Publisher
Universidad Complutense de Madrid
Abstract
El propósito de ésta disertación es contribuir a la literatura de ciencias sociales sobre gobierno y administración pública utilizando un caso de suministro de agua urbana como un modelo de entrega de servicios públicos y analizándolo desde varias perspectivas teóricas. Esto ilumina los procesos sociopolíticos que son de interés a teóricos y practicantes de la investigación en administración pública. El caso del agua y del suministro del vital líquido en contextos urbanos es extremadamente interesante y relevante para aquellos que estudian teorías de la política pública, ya que es fundamental como recurso natural al ayudar a la producción de bienes y servicios para el consumo de la sociedad. Al mismo tiempo, el agua es un recurso de interés público dada su escasez y la necesidad de una infraestructura robusta que se requiere para suministrarlo a poblaciones urbanas y rurales. Esto hace que el diseño de reglas, normas, leyes e instrumentos de política pública sea uno de los elementos fundamentales al decidir mecanismos de gobernanza sobre cómo se extrae el agua, se distribuye, se consume, se dispone, se trata y se recicla en un sistema urbano de ciclo cerrado. Además, el problema de la entrega del servicio público de agua presenta características que lo hacen ideal para ser analizado con herramientas analíticas de la literatura sobre políticas públicas, dado que para resolver éste complejo rompecabezas es necesario traer teorías de implementación de la política pública, teorías de construcción de la agenda, de toma de decisiones, etc. Si bien la gestión del agua en zonas agrícolas es absolutamente importante, en ésta tesis el análisis se enfoca primariamente en la gobernanza de agua urbana. Hay tres razones fundamentales para la utilización de este criterio de selección de casos. En primer lugar, el crecimiento exponencial de las ciudades ha conllevado un incremento substancial en la población que requiere suministro público de agua. En segundo lugar, aun cuando la producción agrícola y ganadera son los sectores industriales que consumen más agua en México, también son los sectores que están enviando más individuos en edad laboral a su relocalización a áreas urbanas...
The purpose of this dissertation is to contribute to the social science literature on government and public administration by using a case study of urban water supply as a public service delivery model, and analyzing it from various theoretical perspectives. This illuminates the socio-political processes that are of interest to theoreticians and practitioners of public administration research. The case of water and public water supply in urban contexts is extremely interesting and relevant for those who study public policy theories, given that it is fundamental as a natural resource in aiding production of goods and services for societal consumption. That said, water is also a public interest resource because of its scarcity and how strong an infrastructure is needed in order to supply it to urban and rural populations. This makes setting rules, norms, laws and public policy instruments one of the key issues in deciding governance mechanisms for how water is extracted, distributed, consumed, disposed, treated and recycled in a closed loop urban system. Besides, the problem of public water service delivery presents characteristics that make it ideal to be analyzed with analytical tools from public policy scholarship, given that in order to solve this puzzle it is necessary to bring around and use public policy implementation theories, agenda-setting theories, decision-making theories, etc. While, admittedly, water resources management in agricultural zones is absolutely important, in this dissertation the analysis is primarily focused in urban water governance. There are three fundamental reasons to use this case selection criterion. Firstly, cities' exponential growth has brought with it a substantial increase in population that requires public water supply. Secondly, even though agricultural and animal husbandry production is the industrial sector that consumes more water in Mexico, it is also one of the sectors that is pushing more individuals within working age towards relocating to urban areas. The largest portion of internal migration in Mexican regions is precisely peasants who stopped working in their farms and moving to large cities to find new jobs...
Description
Tesis inédita de la Universidad Complutense de Madrid, Facultad de Ciencias de Políticas y Sociología, leída el 01-02-2016
Collections