Publication:
On the existence of Enriques-Fano threefolds of index greater than one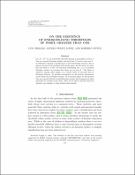 Files
Advisors (or tutors)
Editors
Publisher
American Mathematical Society
Abstract
Let X C P-N be an irreducible threefold having a hyperplane section Y that is a smooth Enriques surface and such that X is not a cone over Y. In 1938 Fano claimed a classification of such threefolds; however, due to gaps in his proof, the problem still remains open. In this article we solve the case when Y is the r-th Veronese embedding, for r greater than or equal to 2, of another Enriques surface, by proving that there are no such X. The latter is achieved, among other things, by a careful study of trisecant lines to Enriques surfaces. As another consequence we get precise information on the ideal of an Enriques surface. In a previous paper we had proved that any smooth linearly normal Enriques surface has homogeneous ideal generated by quadrics and cubics. Here we are able to specify when the quadrics are enough, at least scheme-theoretically.
Citation
Alexeev, V.: General elephants of Q-Fano 3-folds. Compositio Math. 91, (1994) 91-116. Arbarello, E., Sernesi, E.: Petri's approach to the study of the ideal associated to a special divisor. Invent. Math. 49, (1978) 99-119. Arrondo, E., Sols, I.: On congruences of lines in the projective space. Mém. Soc. Math. France 50, (1992). Bayle, L.: Classification des variétés complexes projectives de dimension trois dont une section hyperplane générale est une surface d'Enriques. J. Reine Angew. Math. 449, (1994) 9-63. Badescu, L.: Polarized varieties with no deformations of negative weights. In: Geometry of complex projective varieties (Cetraro, 1990), Sem. Conf. 9, Mediterranean, Rende (Italy), 1993, 9-33. Bertram, A., Ein, L., Lazarsfeld, R.: Surjectivity of Gaussian maps for line bundles of large degree on curves. In: Algebraic Geometry (Chicago, IL, 1989), Lecture Notes in Math. 1479, Springer, Berlin-New York: 1991, 15-25. Bogomolov, F.: Holomorphic tensors and vector bundles on projective varieties. Izv. Akad. Nauk SSSR Ser. Mat. 42, (1978) 1227-1287, 1439; English transl., Math. USSR-Izv. 13, (1979) 499{555. Barth, W., Peters, C., van de Ven, A.: Compact complex surfaces. Ergebnisse der Mathematik und ihrer Grenzgebiete 4, Springer-Verlag, Berlin-New York, 1984. Cossec, F., Dolgachev, I.: Enriques surfaces I. Progress in Mathematics 76, Birkhhauser Boston, MA, 1989. Cossec, F., Dolgachev, I.: Enriques surfaces II. To appear. heltsov, I.A.: Three-dimensional algebraic varieties that have a divisor with a numerically trivial canonical class. Russian Math. Surveys 51, (1996) 140-141. Cheltsov, I.A.: On the rationality of non-Gorenstein Q-Fano 3-folds with an integer Fano index. In: Birational algebraic geometry (Baltimore, MD, 1996), Contemp. Math. 207, Amer. Math. Soc., Providence, RI, 1997, 43-50. Cheltsov, I.A.: Boundedness of Fano 3-folds of integer index. Math. Notes 66, (1999)360-365. Ciliberto, C., Verra, A.: On the surjectivity of the Gaussian map for Prym-canonical line bundles on a general curve. In: Geometry of complex projective varieties (Cetraro,1990), Sem. Conf. 9, Mediterranean, Rende (Italy), 1993, 117-141. Ciliberto, C., Lopez, A.F., Miranda, R.: Projective degenerations of K3 surfaces, Gaussian maps and Fano threefolds. Invent. Math. 114, (1993) 641-667. Ciliberto, C., Lopez, A.F., Miranda, R.: Classification of varieties with canonical curve section via Gaussian maps on canonical curves. Amer. J. Math. 120, (1998)1-21. Cossec, F.R.: On the Picard group of Enriques surfaces. Math. Ann. 271, (1985) 577-600. Conte, A.: Two examples of algebraic threefolds whose hyperplane sections are Enriques surfaces. In: Algebraic geometry|open problems (Ravello, 1982), Lecture Notes in Math. 997, Springer, Berlin-New York, 1983, 124-130. Conte, A.: On the nature and the classication of Fano-Enriques threefolds. In: Proceedings of the Hirzebruch 65 Conference on Algebraic Geometry (Ramat Gan,1993), Israel Math. Conf. Proc. 9, Bar-Ilan Univ., Ramat Gan, 1996, 159-163. Coppens, M., Martens, G.: Secant spaces and Cliford's theorem. Compositio Math. 78, (1991) 193-212. Conte, A., Murre, J.P.: Algebraic varieties of dimension three whose hyperplane sections are Enriques surfaces. Ann. Scuola Norm. Sup. Pisa Cl. Sci. 12, (1985)43-80. Conte, A., Verra, A.: Reye constructions for nodal Enriques surfaces. Trans. Amer. Math. Soc. 336, (1993) 79-100. Dolgachev, I., Reider, I.: On rank 2 vector bundles with c21 = 10 and c2 = 3 on Enriques surfaces. In: Algebraic geometry (Chicago, IL, 1989), Lecture Notes in Math. 1479, Springer, Berlin, 1991, 39-49. Ein, L.: The irreducibility of the Hilbert scheme of smooth space curves. Proceedings of Symposia in Pure Math. 46, (1987) 83-87. Eisenbud, D., Lange, H., Martens, G., Schreyer, F.O.: The Cliford dimension of a projective curve. Compositio Math. 72, (1989) 173-204. Fano, G.: Sopra alcune varieta algebriche a tre dimensioni aventi tutti i generi nulli. Atti Accad. Torino 43, (1908) 973-984. Fano, G.: Sulle varieta algebriche a tre dimensioni aventi tutti i generi nulli. Atti Congr. Internaz. Bologna IV, (1929) 115-121. Fano, G.: Su alcune varieta algebriche a tre dimensioni a curve sezioni canoniche. Scritti Mat. oerti a L. Berzolari. Ist. Mat. R. Univ. Pavia, Pavia, (1936) 329-349. Fano, G.: Sulle varieta algebriche a tre dimensioni a curve sezioni canoniche. Mem. Accad. d'Italia VIII, (1937) 23-64. Fano, G.: Nuove ricerche sulle varieta algebriche a tre dimensioni a curve-sezioni canoniche. Pont. Acad. Sci. Comment. 11, (1947) 635-720. Fano, G.: Sulle varieta algebriche a tre dimensioni le cui sezioni iperpiane sono superficie di genere zero e bigenere uno. Memorie Soc. dei XL 24, (1938) 41-66. Fujita, T.: Rational retractions onto ample divisors. Sci. Papers College Arts Sci. Univ. Tokyo 33, (1983) 33-39. Griffiths, P., Harris, J.: Residues and zero-cycles on algebraic varieties. Ann. of Math. 108, (1978) 461-505. Giraldo, L., Lopez, A.F., Mu~noz, R.: On the projective normality of Enriques surfaces (with an appendix by Lopez, A.F. and Verra, A.). Math. Ann. 324, (2002)135{158. Godeaux, L.: Sur les varietes algébriques à trois dimensions dont les sections hyperplanes sont des surfaces de genre zéro et de bigenre un. Bull. Acad. Belgique Cl. Sci.14, (1933) 134-140. Godeaux, L.: Une variété algébrique à trois dimensions dont les sections hyperplanes sont des surfaces de bigenre un. Bull. Soc. Roy. Sci. Liege 31, (1962) 751-756. Godeaux, L.: Sur les variétés algébriques à trois dimensions dont les sections hyperplanes sont des surfaces de bigenre un. Acad. Roy. Belg. Bull. Cl. Sci. 48, (1962) 1251-1257. Godeaux, L.: Une variété algébrique à trois dimensions à sections hyperplanes de bigenre un. Bull. Soc. Roy. Sci. Liége 39, (1970) 439-441. Green, M.: Koszul cohomology and the geometry of projective varieties. J. Dfferential Geom. 19, (1984) 125-171. Hulek, K.: Projective geometry of elliptic curves. Astérisque 137 (1986). Iskovskih, V.A.: Fano 3-folds I. Izv. Akad. Nauk SSSR Ser. Mat. 41, (1977) 516-562, 717; English transl., Math. USSR-Izv. 11, (1977) 485{527. Iskovskih, V.A.: Fano 3-folds II. Izv. Akad. Nauk SSSR Ser. Mat. 42, (1978) 506-549; English transl., Math. USSR-Izv. 12, (1978) 469{506. Iskovskih, V.A.: Anticanonical models of three-dimensional algebraic varieties. Current problems in mathematics 12, VINITI, Moscow, 1979, 59-157, 239; English transl., J. Soviet Math. 13, (1980) 745{814. Iskovskih, V.A.: Birational automorphisms of three-dimensional algebraic varieties. Current problems in mathematics 12, VINITI, Moscow, 1979, 159-236, 239; English transl., J. Soviet Math. 13, (1980) 815{868. Kleppe, J.O.: Liaison of families of subschemes in Pn. In: Algebraic curves and projective geometry (Trento, 1988), Lecture Notes in Math. 1389, Springer, Berlin, 1989, 128-173. Lazarsfeld, R.: A sampling of vector bundle techniques in the study of linear series. Lectures on Riemann surfaces (Trieste, 1987), World Sci. Publishing, Teaneck, NJ,1989, 500-559. Lange, H., Sernesi, E.: Quadrics containing a Prym-anonical curve. J. Algebraic Geom. 5, (1996) 387-399. L'vovsky, S.: Extensions of projective varieties and deformations. I. Michigan Math. J. 39, (1992) 41-51. Martens, G.: �Uber den Clifford-Index algebraischer Kurven. J. Reine Angew. Math. 336, (1982) 83-90. Mumford, D.: Varieties defined by quadratic equations. In: Questions on Algebraic Varieties (C.I.M.E., III Ciclo, Varenna, 1969), Edizioni Cremonese, Rome, (1970)29-100. Mori, S., Mukai, S.: Classiffication of Fano 3-folds with B2 2. Manuscripta Math. 36, (1981/82) 147-162. Murre, J.P.: Classiffication of Fano threefolds according to Fano and Iskovskih. In: Algebraic threefolds (Varenna, 1981), Lecture Notes in Math. 947, Springer, Berlin, 1982, 35-92. Prokhorov, Y.G.: On three-dimensional varieties with hyperplane sections-Enriques surfaces. Mat. Sb. 186, (1995) 113-124; English transl., Sb. Math. 186, (1995) 1341{1352. Reider, I.: Vector bundles of rank 2 and linear systems on algebraic surfaces. Ann. of Math. 127, (1988) 309-316. Sano, T.: On classication of non-Gorenstein Q-Fano 3-folds of Fano index 1. J. Math. Soc. Japan 47, (1995) 369-380. Sano, T.: Classication of non-Gorenstein Q-Fano d-folds of Fano index greater than d
Collections