Publication:
Cathodoluminescence of rare earth implanted AllnN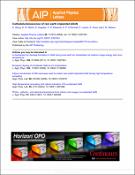 Advisors (or tutors)
Editors
Publisher
American Institute of Physics
Abstract
AlInN layers implanted with europium and erbium ions are systematically studied and compared with similarly implanted GaN. Cathodoluminescence from four series of annealed samples shows that the Eu/Er emissions from AlInN are considerably broader than those from GaN, while the peak positions only change slightly. The rate of increase of cathodoluminescence intensity with annealing temperature, up to 1300 °C, is analyzed for all four series. For Eu the increase exceeds 10x in both hosts. Although some decomposition is observed for annealing at 1200 degrees C, well above the growth temperature, AlInN is shown to be a surprisingly robust host for rare earth ions.
Description
© 2006 American Institute of Physics. The authors are grateful for the support by the European Research Training Network project RENiBEl (Contract No. HPRN-CT-2001-00297) and the ORS award scheme, and would like to thank S. Ruffenach and O. Briot for providing AlN capped GaN wafers for implantation.
Collections