Publication:
Anticuerpos anti-fosfatidilserina/protrombina en fracaso reproductivo recurrente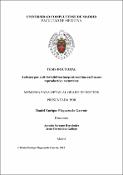 Files
Editors
Publisher
Universidad Complutense de Madrid
Abstract
Los anticuerpos anti-fosfatidilserina/protrombina (aPS/PT) son autoanticuerpos que forman parte de la familia de los anticuerpos anti-fosfolipídicos (aFL), descritos con posterioridad a los clásicos como anticoagulante lúpico, anti-Cardiolipina y anti-Beta-2-Glicoproteína-I y no incluidos en los últimos criterios de clasificación como criterio de laboratorio en Síndrome anti-fosfolipídico (SAF). Además de su utilidad en trombosis para la identificación de pacientes como afectos de este Síndrome cuando otros marcadores son negativos y como parámetro subrogado de anticoagulante lúpico, los trabajos presentados en esta tesis doctoral amplían el interés de la determinación de estos autoanticuerpos para mostrar utilidad en pacientes con abortos y fracaso de implantación recurrente. Encontramos una importante prevalencia de aPS/PT en pacientes sin otras enfermedades autoinmunes con excepción de alteraciones tiroideas tanto con criterios clínicos para SAF con manifestaciones obstétricas como sin ellos, como es la situación de mujeres con dos abortos consecutivos anteriores a la semana 10 y pacientes con fracaso de implantación recurrente. Además, en todos los fenotipos clínicos hallamos una asociación estadísticamente significativa, tanto en los análisis univariantes como en los multivariantes comparados con la edad y los aFL incluidos en los criterios de laboratorio del último consenso establecido en el congreso mundial de SAF en Sídney. El hallazgo de estos autoanticuerpos en las pacientes tratadas en nuestra consulta motivó la introducción de un esquema de tratamiento similar a cuando encontramos la presencia de otros aFL y conllevó una siguiente gestación exitosa con recién nacido vivo con diferencias estadísticamente significativas con respecto a la abstención terapéutica cuando todas las intervenciones en pacientes positivas para aPS/PT fueron tenidas en cuenta como en los grupos de pacientes con abortos anteriores a la semana 10 de gestación.
Anti-phosphatidylserine/prothrombin (aPS/PT) antibodies are autoantibodies that are part of the family of the anti-phospholipid antibodies (aPL). Contrary to lupus anticoagulant, anti-Cardiolipin and anti-Beta-2- Glycoprotein-I, aPS/PT are not included in the latest classification criteria as a laboratory criterion for Anti-Phospholipid Syndrome (APS). It is known that these antibodies could be present in patients with thrombosis who are negative for other aPL. The results found in this PhD thesis broaden the interest of aPS/PT determination to show utility in the field of recurrent miscarriages and implantation failure. We found a significant prevalence of aPS/PT and a statistically significant association with all the clinical phenotypes of obstetric morbidity within APS, both in the univariate and multivariate analysis compared to age and aPL included in the laboratory criteria. Patients positive for aPL including aPS/PT were treated with similar schemes to other aPL and led to a subsequent successful pregnancy with a live newborn with statistically significant differences compared to therapeutic abstention when the evolution of all aPS/PT patients was considered as a whole as well as in women with spontaneous miscarriages before pregnancy week 10.
Description
Tesis inédita de la Universidad Complutense de Madrid, Facultad de Medicina, leída el 28-06-2022