Publication:
Genealogía de los teatros. El espacio teatral como paradigma del diseño posible en el discurso dominante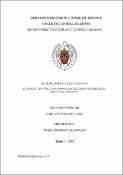 Files
Authors
Advisors (or tutors)
Editors
Publisher
Universidad Complutense de Madrid
Abstract
La tesis con el título 'GENEALOGÍA DE LOS TEATROS: EL ESPACIO TEATRAL COMO PARADIGMA DEL DISEÑO POSIBLE EN EL DISCURSO DOMINANTE' investiga el campo de los espacios para la representación de tradición occidental, el espacio teatral de raíz aristotélica, atendiendo en particular a los equilibrios económicos, sociales y estéticos en los que cada uno de ellos fue posible. No se trata de un recorrido puramente descriptivo de la apariencia de los teatros que estudiamos, aunque la descripción juegue un papel relevante, ni se trata de una enumeración pormenorizada de la mano de la(s) Historia(s) –la Historia del Teatro, la Historia de la Arquitectura, la Historia del Diseño-. De lo que aquí se trata es de rastrear en la superficie de los propios espacios, interrogándolos en su presencia cierta, en busca de las marcas que muestren la violencia tras el equilibrio de fuerzas -sociales, económicas, estéticas- que los hicieron diseños eficaces, diseños de éxito, frente a los otros que no se dieron. Así, la tesis tiene como objetivo principal el establecimiento de una Ley de emergencia de los espacios para la representación de tradición aristotélica, que oriente la tarea del individuo a la hora de abordar cualquier intervención dentro de estos espacios tan particulares. El resultado de la investigación ha revelado la existencia cierta de dos discursos de formación: un discurso principal, que llamamos línea dominante, que ha privilegiado la aparición de ciertos espacios impidiendo, claro, el éxito de cualquiera otros y la reciente aparición de un segundo discurso, que hemos nombrado como línea singular. ABSTRACT.This thesis under the title: "GENEALOGY OF THEATRE. THE THEATRICAL SPACE AS A PARADIGM OF THE POSSIBLE DESIGN IN DOMINANT DISCOURSE."analyses western tradition spaces for performances, Aristotelian-rooted theatrical spaces, with a special focus on the economic, social and aesthetic balances in which each of them were possible. We are not trying to provide merely a descriptive account of the appearance of the spaces under analysis, even if such description plays an important role in our investigation, nor do we intend to provide a detailed list right through History(ies), -the History of Theatre, the History of Architecture or the History of Design-. The purpose of this work is to trawl through the surface of theatres as they stand in search for signs that show the violence of the balance of the forces (social, economic and aesthetic) that made them efficient and successful designs, in relation to others that simply did not happen. Therefore, the main objective of this thesis is to establish the Norms on the occurrence of the performance spaces of Aristotelian tradition that will guide anyone willing to address any intervention within these particular spaces. The result of the investigation has revealed the actual existence of two formation discourses: a main discourse, which we call dominant line, which has facilitated the appearance of certain spaces preventing, of course, the success of any other spaces and the recent appearance of a second discourse, which we have called distinctive line.
Description
Tesis inédita de la Universidad Complutense de Madrid, Facultad de Bellas Artes, Departamento de Dibujo II (Diseño e Imagen), leída el 10 de julio de 2013
Collections