Publication:
Documentary sources from South America: potential for climate reconstruction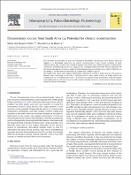 Advisors (or tutors)
Editors
Abstract
This overview demonstrates the potential of historical documents from Ecuador, Peru, Bolivia, Chile and Argentina, for developing continuous and precise reconstructions of past climatic variations in South America, during past centuries. We provide an extensive list of the major historical sources of paleoclimatic information, including regional archives, magazine and newspaper libraries in South America and Spain. We also discuss the type of information required to develop homogeneous climatic series, and the differences in the quality of records between the historical, colonial and republican periods. We examine the spatial and temporal distributions of historical records in South America. The period of analysis varies depending on the date of Spanish arrival to each region. Finally, we briefly discuss the limitations in the use of historical records in South America, and their future perspectives: what information is presently available and what research is still needed to provide consistent reconstructions of past climates based on historical documents.
Description
© 2008 Elsevier B.V. All rights reserved. To Facundo Rojas and Clara Cueto (IANIGLA) for their assistance with maps, figures and tables, and to Louise Newman (PAGES) and María Elena Soler (IANIGLA) for their assistance with the English translation. Dennis Wheeler discussed a previous version of the paper. Two anonymous reviewers helped to substantially improve this paper through useful suggestions. This research was partially supported by CONICET, the Argentinean Agency for the Promotion of Science and Technology (PICTR02-186) and the Project CRN2047 from the Inter American Institute for Global Change Research (IAI). The latter project is funded by grant CRN II # 2060 which is supported by the US National Science Foundation (Grant GEO-0452325).
Collections