Publication:
Mecánica de membranas basadas en esfingolípidos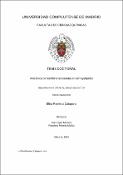 Files
Authors
Advisors (or tutors)
Editors
Publisher
Universidad Complutense de Madrid
Abstract
Las ceramidas pertenecen a la familia de esfingolípidos (1). Durante años, se asumió que el papel de las ceramidas en las membranas biológicas era el de promover fuertes interacciones intermoleculares debido a su capacidad para formar puentes de hidrogeno entre cabeza-cabeza (2). Como consecuencia, tienden a segregarse y formar dominios ordenados que presentan carácter solido o similar al de un gel (3). In vivo, la ceramida puede aparecer en la membrana plasmática como producto de la hidrólisis de la esfingomielina, durante la apoptosis natural o cuando la muerte celular es inducida a través de algún stress celular (4,5). Las ceramidas no forman bicapas estables por sí solas, son desfavorecidas debido a su forma molecular (cono invertido) y sólo ganan suficiente estabilidad cuando son mezcladas con otros lípidos compatibles en la formación de bicapas, particularmente la esfingomielina. Las monocapas de Langmuir de ceramidas son por tanto útiles para entender las propiedades mecánicas de las ceramidas de membrana y su mezclas con lípidos que incluyan esfingomielina...
Ceramides belong to the family of sphingolipids (1). For years, it was assumed that the role of ceramides in biological membranes was to promote strong intermolecular interactions due to their ability to form head-to-head hydrogen bonds (2). As a consequence, ceramides in lipid membranes frequently segregate into ordered domains with gel- or solid-like character (3). In vivo, during natural apoptosis or when cell death is induced under stress, infection, or γ- irradiation, ceramide appears in the plasma membrane as a product of sphingomyelin hydrolysis (4, 5). Due to its unfavorable molecular shape (inverted cone), ceramides do not form stable bilayers alone, only gaining sufficient stability when mixed with compatible bilayer-forming lipids, particularly sphingomyelin. Langmuir monolayers of single ceramides could provide useful information to help us understand the mechanical properties of membrane ceramides in lipid mixtures including sphingomyelin. Studies on pure ceramide monolayers are relatively scarce and mainly focus on the equilibrium properties obtained from the compression isotherms (6, 7, 8, 9, 10, 11). From those studies, ceramide monolayers are known to possess very low compressibility compared to typical fluid phospholipids. In a recent article, we demonstrated the strong differences in the shear flow properties between ceramide layers and typical fluid membranes (12)...
Description
Tesis inédita de la Universidad Complutense de Madrid, Facultad de Ciencias Químicas, leída el 31/10/2014
Collections