Publication:
Estudio del mercado de futuros medicamentos y biomarcadores oculares, basado en análisis de datos de propiedad intelectual y de ensayos clínicos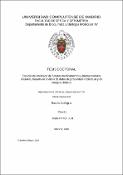 Files
Authors
Advisors (or tutors)
Editors
Publisher
Universidad Complutense de Madrid
Abstract
Durante esta tesis doctoral, hemos buscado nuevas vías de investigación, que podrían ayudar a la industria farmacéutica-oftalmológica a organizar su estrategia a largo plazo, adaptándose a la evolución de las tendencias internacionales en I+D. En este sentido, hemos investigado la dirección y el futuro del mercado de medicamentos y biomarcadores a nivel ocular, basándonos en información adquirida del análisis de las patentes publicadas y de ensayos clínicos en curso. En la realización de este estudio se ha investigado la aparición de posibles biomarcadores de glaucoma, con potencial para el diagnóstico, seguimiento y evaluación de esta patología y nuevos tratamientos que están actualmente en desarrollo. El glaucoma es una enfermedad ocular, que causa la degeneración progresiva de las células ganglionares y daño en el nervio óptico. Como consecuencia de estos eventos se produce una pérdida progresiva e irreversible del campo visual que desemboca en una ceguera permanente no tratable. Frecuentemente el avance de la enfermedad es imperceptible para el paciente, que acude al especialista cuando la patología se encuentra en un estadio avanzado. La causa exacta del glaucoma es incierta. Existen indicios de que la presión intraocular elevada está relacionada con la mayoría de los casos de glaucoma. Por lo tanto, el control de la presión intraocular sigue siendo el principal aspecto tratable en la terapia antiglaucomatosa. La mayoría de los casos de glaucoma pueden ser controlados y detener la pérdida de la visión mediante el tratamiento...
During this thesis, we have sought new avenues of research that could support pharmaceutical ophthalmological industry to organize their long-term strategy, adapted to the changing trends in Research & Development. In this sense, we have explored the course and future of the ophthalmological pharmaceutical and biomarkers market, based on analysis of information acquired through published patents and ongoing clinical trials. The analysis of information revealed the development of novel molecules and new prospects for the ongoing research of the sector. The results demonstrate the existence of promising strategies in the short and long term for the development of new ocular drugs. Objectives This thesis is focused on the study of pharmacological innovation of glaucomatous neuropathies, which is the second leading cause of blindness worldwide, and the dry eye syndrome, which is an ocular surface pathology where the number of cases is rising significantly today. Results & Conclusions Glaucoma is an eye disease that causes progressive degeneration of ganglion cells leading to optic nerve damage. As a result of these events occurs a progressive and irreversible loss of visual field, leading to a permanent untreatable blindness. Often the disease progression is imperceptible to the patient who comes to the specialist when the disease is at an advanced stage. The exact cause of glaucoma is uncertain, even though there is evidence that elevated intraocular pressure is associated with most cases of glaucoma. Therefore, control of intraocular pressure remains the main aspect treatable in antiglaucoma therapy today. Most cases of glaucoma can be controlled and stop vision loss by treatment...
Description
Tesis inédita de la Universidad Complutense de Madrid, Facultad de Óptica y Optometría, Departamento de Bioquímica y Biología Molecular IV, leída el 02-12-2016
Collections