Publication:
Estudio sobre el rol de la enfermera en las consultas externas en un hospital de tercer nivel: influencia del entorno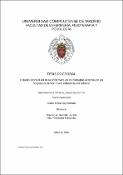 Files
Authors
Advisors (or tutors)
Editors
Publisher
Universidad Complutense de Madrid
Abstract
El análisis de la situación de salud del nuevo mileno, muestra un perfil epidemiológico con un incremento de población adulta mayor, patologías crónicas complejas y procesos degenerativos. Esta situación incrementa el nivel de dependencia del paciente y promueve la necesidad de articular fórmulas alternativas a la hospitalización convencional. La ambulatorización de procesos asistenciales, desarrolla el concepto de hospital hacia un modelo institucional más abierto y dinámico con un mejor conocimiento de las consultas de atención especializada. La coordinación socio sanitaria de los servicios de salud impulsa la intervención de equipos multidisciplinarios y el rol de la enfermera en la gestión del cuidado. Las consultas externas de atención especializada son el principal punto de contacto del hospital con la población de su área de influencia y tienen como objetivo asegurar de la forma más ágil el abordaje de los problemas de salud del paciente sano o enfermo con su entorno de convivencia. No obstante, el desempeño del rol enfermero está influido por una serie de factores de riesgo que pueden interferir en el proceso asistencial y en los resultados de salud...
The analysis of the health situation in the new millennium yields an epidemiological profile with an increased aged adult population, complex chronic pathologies, and degenerative processes. This situation increases patients' dependency levels and generates a need to articulate alternative formulas to conventional hospitalisation. Outpatient care develops the concept of a hospital towards a more open and dynamic institutional model, with better knowledge of specialist care practices. Social and healthcare coordination of the healthcare services promotes the involvement of interdisciplinary teams and the nurses' role in care management. Specialist outpatient clinics are the main point of contact between a hospital and the population in its area of influence, and their goal is to provide an agile approach to patients' health problems in their living environment. However, a number of risk factors that can interfere in the care process and the health outcome have an impact on the nursing role. The risk factors that have the strongest impact on professionals are the physical factors pertaining to infrastructures; biological exposure related to the handling of bodily fluids; chemical elements linked to the handling of healthcare products; ergonomic elements related to body dynamics; and psychosocial elements, particularly stress...
Description
Tesis inédita de la Universidad Complutense de Madrid, Facultad de Enfermería, Fisioterapia y Podología, leída el 13-01-2016
Collections