Publication:
Adherencia al tratamiento con antineoplásicos orales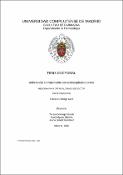 Files
Authors
Advisors (or tutors)
Editors
Publisher
Universidad Complutense de Madrid
Abstract
En los últimos años, la investigación del tratamiento del cáncer ha tenido como resultado el desarrollo de un gran número de medicamentos con el fin de curar la patología, prolongar la supervivencia de los pacientes o mejorar su calidad de vida. Entre estos fármacos se encuentran los antineoplásicos de administración por vía oral (ANEO). Las ventajas que la vía oral ofrece sobre la parenteral son múltiples: mayor autonomía para el paciente, posología más cómoda y minimización de los riesgos derivados del uso de catéteres periféricos o de reservorios en vías centrales (Consejería de Salud de La Rioja, 2010; Verbrugghe et al., 2013; Anderson et al., 2014; Trivedi et al., 2014). Los ANEO plantean también nuevos retos para los profesionales sanitarios, ya que precisan de una alta adherencia terapéutica y la realización de frecuentes ajustes posológicos en función de la eficacia conseguida y de la tolerancia al tratamiento (Consejería de Salud de La Rioja, 2010). La adherencia terapéutica es un fenómeno complejo, que está condicionado por múltiples factores. Los términos adherencia y cumplimiento se emplean, con frecuencia, de forma indistinta. En un principio, solamente se utilizaba el término cumplimiento para definir la toma correcta de los medicamentos, mientras que hoy día está completamente consensuado el uso del término adherencia, entendida como una actitud del paciente que implica su compromiso respecto a la medicación prescrita por el médico, con una participación activa en la elección y el mantenimiento del régimen terapéutico (OMS, 2004; Fontanals Martínez et al., 2011). Por tanto, es un comportamiento humano, modulado por componentes subjetivos, y en esta dimensión debe ser esencialmente comprendido, abordado e investigado. Se puede considerar que la adherencia engloba dos conceptos: cumplimiento de dosis y forma de administración, y persistencia en la duración del tratamiento prescrito (Nogués Solán et al., 2007)...
In recent years, cancer treatment research has led to the development of a growing number of new drugs aimed at curing the disease, increasing patient survival, and improving quality of life. Among these drugs are oral anticancer agents (OAAs). Oral administration has many advantages over parenteral administration: greater patient autonomy, a more convenient dosing schedule, and fewer risks due to the elimination of peripheral catheters or reservoirs in central lines (Consejería de Salud de La Rioja, 2010; Verbrugghe et al., 2013; Anderson et al., 2014; Trivedi et al., 2014). However, OAAs pose new challenges for health professionals because these drugs require high adherence and frequent dosage adjustments based on achieved efficacy and treatment tolerance (Consejería de Salud de La Rioja, 2010). Treatment adherence is a complex issue, which is influenced by multiple factors. The terms adherence and compliance are often used interchangeably. Initially, compliance was only used to refer to taking the medication correctly, but the use of the term adherence has gained consensus and it now includes an attitude on the part of the patients that implies their commitment towards the medication prescribed by the doctor, as well as their active participation in the choice and maintenance of the therapeutic regimen (World Health Organization, 2004; Fontanals Martinez et al., 2011). Therefore, adherence should be understood, addressed, and investigated as an expression of human behaviour that is modulated by subjective components. Adherence comprises two concepts: compliance with dosage and the administration method; and persistence regarding the duration of the prescribed treatment (Nogues Solan et al., 2007)...
Description
Tesis inédita de la Universidad Complutense de Madrid, Facultad de Farmacia, Departamento de Farmacología, leída el 18-01-2016
Collections