Publication:
Construcciones participiales y adjetivas atributivas expandidas de la lengua alemana y su problemática para los traductores de español como lengua materna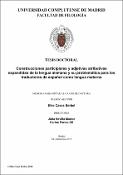 Files
Authors
Advisors (or tutors)
Editors
Publisher
Universidad Complutense de Madrid
Abstract
Esta tesis doctoral posee un carácter interdisciplinario, pues se enmarca en la lingüística, la enseñanza de lenguas y la traductología. La tesis tiene como objeto de estudio las construcciones participiales y adjetivas atributivas expandidas (CPAAE) de la lengua alemana. Tras analizar las diferentes corrientes metodológicas de enseñanza de alemán como lengua extranjera y estudiar la inclusión de las CPAAE en ellas, hemos elaborado un estudio a través de diversos ítems sobre el tratamiento que reciben tales construcciones en diferentes gramáticas y métodos, concretamente en 8 gramáticas para germanohablantes, en 7 para hispanoparlantes y en 1 contrastiva, así como en 21 métodos DaF (alemán como lengua extranjera).A continuación, hemos estudiado las CPAAE en tres lenguajes especializados: el lenguaje jurídico, el literario y el periodístico. A través de la extracción de las CPAAE procedentes de diferentes corpus, hemos analizado el uso y, por consiguiente, la importancia de esta construcción en el lenguaje actual alemán...
This doctoral thesis has an interdisciplinary nature, since it can be framed in linguistics, language teaching and Translation Studies. The dissertation aims to study the Extended Attributive Participial and Adjective Constructions (EAPACs) of the German language. After analyzing the different methodological teaching movements for teaching German as a second language and searching for their inclusion of the the EAPACs, we conducted a research using different items to observe how these constructions are treated in different grammars and teaching methods (eight grammars for German speakers, seven for Spanish speakers, one contrastive grammar and 21 teaching methods).Subsequently, we studied the EAPACs in three different specialized languages: legal language, literary language and journalese. By extracting the EAPACs from different corpora, we have analyzed the use and, therefore, the importance of this construction in modern German...
Description
Tesis de la Universidad Complutense de Madrid, Facultad de Filología, leída el 17/09/2018
Collections