Publication:
Estudio de clases de complejidad de testing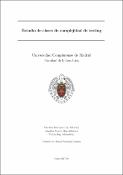 Files
Advisors (or tutors)
Editors
Abstract
La importancia que está tomando la tecnología en nuestros días obliga a las empresas a invertir grandes cantidades de recursos para asegurar que sus sistemas informáticos funcionan con la mayor fiabilidad posible. Gran parte de estos recursos son utilizados en las pruebas iniciales que se llevan a cabo a la hora de testear los sistemas. En este trabajo estudiaremos la complejidad que supone aplicar dichas pruebas, identificar qué sistemas, según su naturaleza, suponen una mayor complejidad al ser testeados o en qué momento no merece la pena continuar destinando recursos para tratar de mejorar la confianza de los mismos. Para ello, desarrollaremos herramientas que nos permitan realizar experimentos en diferentes escenarios de prueba, analizar resultados y razonar sobre las conclusiones obtenidas.
The importance of technology today is forcing companies to invest large amounts of resources to ensure that their IT systems operate as reliably as possible. A large part of these resources are used in the initial tests that are carried out at the time of testing the systems. In this work we will study the complexity of applying these tests, identify which systems, according to their nature, are more complex when they are tested or when it is not worthwhile to continue allocating resources to try to improve their confidence. To this end, we will develop tools that allow us to conduct experiments in different test scenarios, analyze results and reason on the conclusions obtained.
Description
Universidad Complutense, Facultad de Informática, curso 2017/2018