Publication:
Robot buscador de manchas por visión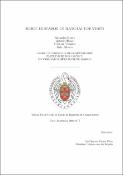 Files
Advisors (or tutors)
Editors
Abstract
La idea de este proyecto se toma del concurso organizado por Mathworks, Mission On Mars Robot Challenge. En él no se trata de crear un robot, el cual es provisto por la organización, sino de optimizar el funcionamiento que simule el de los robots que viajan a Marte para explorar el terreno superando obstáculos. A más pequeña escala, se desarrolla el robot que, mediante un hardware más básico y un diseño propio, va a ser capaz de detectar una serie de manchas de un color determinado sobre el terreno gracias a la cámara que posee. Una vez vistas todas las que son alcanzables desde su posición, visitará la más cercana. Por otro lado, se expondrán una serie de ideas para la optimización del robot, que debido a una serie de razones no han llegado a ser implementadas. Esta empieza por añadir un nuevo hardware al robot y así este sería capaz de generar un mapa del terreno, lo cual haría que pudiera visitar más objetivos y de una forma más eficiente.
The idea for this project is taken of the contest organized by Mathworks, Mission On Mars Robot Challenge. That contest is not based on create a new robot, which is provided by the organization, but to optimize how the robot works and simulate the behaviour of the robots sent to Mars to explore its surface. On a small scale, a robot with a basic hardware and its own design is developed to be able to find color spots in the field using the camera. Once all the spots, reachable from the initial position are seen, it will visit the nearest. On the other side, a set of ideas will be exposed to optimize the robot, but they haven't been finally implemented due several reasons. This set begins adding new hardware to the robot to be able to generate a map of the field, to make possible visit more spots and in an efficient way.
Description
Trabajo de Fin de Grado en Ingeniería de Computadores (Universidad Complutense, Facultad de Informática, curso 2016/2017)