Publication:
Desarrollo y aplicación de métodos quimiométricos para el estudio de muestras mediante Espectroscopia de Ablación Láser (LIBS)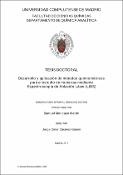 Files
Authors
Advisors (or tutors)
Editors
Publisher
Universidad Complutense de Madrid
Abstract
La espectroscopía de ablación láser (LIBS) es una técnica analítica que se basa en la formación y estudio de un plasma inducido por un pulso láser focalizado sobre la superficie de un material. La emisión producida por dicho plasma, debido a la recombinación electrónica, es colectada generando un espectro que permite el estudio cualitativo y/o cuantitativo del material. LIBS se ha convertido en una técnica espectroscópica establecida con un enorme valor analítico debido al conjunto de ventajas que presenta y sus particulares características técnicas. Es destacable su rapidez, versatilidad y capacidad de producir información analítica para prácticamente cualquier tipo de muestra de forma escasamente destructiva y con mínima o incluso nula preparación de muestra. Su instrumentación es sencilla, robusta y compacta, permitiendo incluso llevar análisis in situ, así como realizar análisis remotos. El principal objetivo de esta tesis es el estudio de la técnica LIBS en combinación con métodos quimiométricos de análisis, especialmente redes neuronales artificiales, para llevar a cabo estudios cualitativos (identificación y discriminación) usando espectros LIBS como huellas espectrales digitales características de muestras de origen alimenticio (aceites de oliva y vinos), con interés forense (huesos y dientes humanos) y por último especies animales, moluscos y corales, con interés paleoclimático...
Laser induced breakdown spectroscopy (LIBS) is an analytical technique that relies on the formation and study of a plasma induced by a focused laser pulse on the surface of a sample. The plasma emission produced, due to electronic recombination, generates a spectrum. That spectrum is collected and its spectroscopic analysis allows carrying out qualitative and/or quantitative analysis. LIBS technique has become established as an important spectroscopic technique with enormous analytical potential due to its particular characteristics and advantages over other analytical techniques. Its speed, versatility and the capacity to produce analytical information for almost any type of sample in a minimally destructive way with a reduced or none sample preparation are of upmost importance. LIBS technique is a robust and compact methodology with an easy implementation that allows to perform analytical measurement in situ and even remote analysis. The main objective of this thesis is the study of the LIBS technique in combination with chemometric analysis methods, especially artificial neural networks, in order to carry out several qualitative studies using LIBS spectra as characteristics spectral fingerprints of the samples. LIBS technique is widely known as well as chemometric methods; however its combination is nowadays under development and only several authors use advanced chemometric methods to improve the performance and the possibilities of the technique...
Description
Tesis inédita de la Universidad Complutense de Madrid, Facultad de Ciencias Químicas, Departamento de Química Analítica, leída el 11/03/2016
Collections