Publication:
Conflictos de leyes e integración jurídica: Estados Unidos y la Unión Europea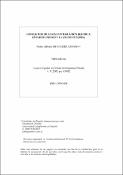 Authors
Advisors (or tutors)
Editors
Abstract
Choice of law rules in the US are established at state level –usually by state courts- and constitutional restrictions on state rules are very limited in that field. The complexity of the system is increased by the impact of modern theories on state court practice. The calls from conflicts scholars to create uniform solutions at federal level have not changed the situation. The diversity of the American choice of law system operates in a framework where the level of cultural and legal uniformity as regards the substantive regulation of the areas covered by private law is much more intense than the situation between the member states of the EU. In the EU the powers conferred on the Community to create uniform choice of law rules and the enactment of regulations in that field are connected to the special role that the unification of choice of law rules plays as a means of legal integration in a framework with deeper differences between the substantive private laws of the member states. That function of community choice of law rules should determine the scope and contents of the new EU regulations and the interpretation of the European choice of law system as a whole. ---- La regulación básicamente a escala estatal y no federal del sector del derecho aplicable en el sistema estadounidense, unida al limitado alcance de las restricciones constitucionales en la materia, contribuyen a dotar a ese sector del ordenamiento de una especial complejidad, acentuada por la abstracción de ciertas doctrinas y su proyección sobre la práctica judicial. La creciente percepción acerca de la conveniencia de unificar las normas de conflicto no ha ido unida a la adopción de una legislación federal elaborada en la materia y los logros también han sido muy limitados en el marco de otras vías de uniformización jurídica propias del sistema estadounidense. En el seno de la Unión Europea, la atribución de competencias específicas a la Comunidad para uniformar las reglas de derecho aplicable y la conveniencia de elaborar reglamentos en la materia se corresponde con el mayor grado de diversidad jurídica material y la menor homogeneidad cultural existente entre los Estados miembros. Este contexto refuerza el significado de la unificación de las reglas de conflicto como mecanismo de integración jurídica, lo que debe condicionar decisivamente la configuración y alcance de los instrumentos en la materia así como la interpretación del conjunto del sistema conflictual comunitario.
Collections