Publication:
El Taller de Lenguaje Musical: una estructura didáctica para estimular el interés situacional en las Escuelas de Música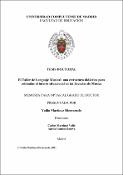 Files
Authors
Advisors (or tutors)
Editors
Publisher
Universidad Complutense de Madrid
Abstract
El interés situacional es una de las principales problemáticas en el proceso de enseñanza-aprendizaje del Lenguaje Musical y es el motor de la tesis doctoral El Taller de Lenguaje Musical: una estructura didáctica para estimular el interés situacional en las Escuelas de Música. En un primer diagnóstico de las actitudes de los estudiantes en las clases de Lenguaje Musical en estas escuelas, identificamos aburrimiento, cansancio, rechazo, absentismo y abandono. Tales comportamientos reflejaban dificultades en el interés, que es un estado psicológico de predisposición al compromiso y una característica de la motivación como categoría psicológica más amplia que determina la dirección de la conducta humana. Encontramos que teorías pedagógicas y psicológicas, tradicionales y actuales, consideran al interés uno de los motores del proceso educativo. En las últimas décadas del siglo XX, el interés ha tenido un tratamiento independiente de la motivación con el desarrollo de teorías propias centradas en sus condicionantes personales y situacionales, su carácter ontogenético y el aprendizaje. Esta tesis focaliza el concepto de interés situacional, que se refiere a un estado temporal de compromiso y satisfacción influido por elementos del entorno que favorecen la participación activa, la satisfacción de los intereses individuales y de las necesidades psicológicas básicas de autonomía, competencia y relación social. Encontramos que los enfoques teórico-metodológicos del aprendizaje experiencial, el pensamiento creativo, la musicalización y el taller pueden contribuir a la estimulación del interés situacional y que, además, están en consonancia con los principios de la educación no formal en los que se basan las Escuelas de Música...
Situational interest is one of the main problems in the Musical Language teaching learning process and it is the engine of the doctoral thesis The Musical Language Workshop: a didactic structure to stimulate situational interest in Music Schools. On a first diagnosis of the attitude of students in Musical Language classes, we identified boredom, tiredness, absenteeism and abandonment. Such behaviours also reflected interest-related difficulties, which is a psychological state of predisposition to commitment and one characteristic of motivation as a wider psychological category, which determines the direction of human conduct.We found that pedagogical and psychological theories, both historical and contemporary, consider Interest as one of the engines of the educational process. In the last decades of the XX century, interest has had an independent treatment from motivation with the development of theories focused on its personal and situational conditions, its ontogenetic character and learning. This thesis focuses on the concept of situational interest, which refers to a temporary state of commitment and satisfaction, influenced by elements of the environment favouring active participation, satisfaction of individual interest and autonomy basic psychological needs, competence and social relationship...
Description
Tesis inédita de la Universidad Complutense de Madrid, Facultad de Educación, leída el 18-10-2021
Collections