Publication:
Evaluación del potencial terapéutico de la reprogramación de los macrófagos tumorales en el mieloma múltiple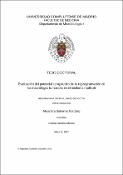 Files
Authors
Advisors (or tutors)
Editors
Publisher
Universidad Complutense de Madrid
Abstract
El mieloma múltiple (MM) es una neoplasia de células B caracterizada por la proliferación anormal de células plasmáticas monoclonales en la médula ósea, gracias a la fuerte interacción y el sostén existente con la población de células estromales presentes en el microambiente medular. Los macrófagos asociados a tumor (TAMs) son elementos fundamentales en el desarrollo tumoral de la mayoría de tumores sólidos, pero también se ha descrito su importante papel en el progreso tumoral de las neoplasias hematológicas circulantes. En el MM los TAMs son componentes cruciales del microambiente de la médula ósea a través del aporte de supervivencia y de resistencia a drogas que ejercen sobre las células tumorales. En los tumores ya establecidos, los TAMs generalmente representan una población polarizada de tipo M2, preferentemente mostrando funciones proangiogénicas y pro-tumorales. El linaje monocito/macrófago se caracteriza por poseer una gran plasticidad, y se ha propuesto a los macrófagos (MØ) como una población que puede retener su habilidad de cambiar en respuesta a determinados estímulos y restablecer sus funciones anti-tumorales. En este trabajo se han investigado varias aproximaciones para reprogramar a los MØ protumorales como una novedosa estrategia terapéutica en el MM. En primer lugar, se encontró diferente capacidad de limitación/promoción tumoral entre varios tipos de MØ de tipo M1 y de tipo M2, respectivamente, cuando se mezclaron con células tumorales de MM tanto in vitro como in vivo. Los MØ de tipo M1 fueron capaces de inducir la muerte celular de las células de MM tanto de manera dependiente como independiente de contacto celular, en este último caso a través de la secreción de moléculas solubles como el TNFα o IL-12 aunque nuestros resultados sugirieron la existencia de factores adicionales involucrados en la muerte programada de las células de MM inducida por los MØ...
Multiple myeloma (MM) is a malignant B-cell tumor characterized by proliferation of monoclonal plasma cells in the bone marrow (BM), where tumoral cells survive due to strong interaction with the stromal cells present in the microenviroment. Tumor associated macrophages (TAM) are key players in promoting tumor progression in mostly solid tumors but also in circulating hematological malignancies. In MM, TAMs are important components of the bone marrow microenviroment that support malignant plasma cell survival and resistance to therapy. Within established tumors, TAMs are believed to represent an M2-polarized population, preferentially expressing M2 markers and showing pro-angiogenic functions. Monocyte/macrophage linage is characterized by being a high plastic population and has been proposed that macrophages (MØ) could retain the capacity to change in response to stimuli able to restore their antitumor functions. Here, we investigated several approaches to reprogram MØ as a novel therapeutic strategy in MM. First, we found different tumorlimiting/ supporting potential between various monocyte-derived M1-like MØ and M2-like MØ, respectively, when mixed with MM cell lines in vitro and in vivo. M1-like MØ were able to induce MM cell death in a contact-dependent and independent manner, the later through the secretion of cytotoxic mediators such as TNFα or IL-12, but our results suggest the existence of other soluble molecules involved in MM-induced cell death...
Description
Tesis inédita de la Universidad Complutense de Madrid, Facultad de Medicina, Departamento de Microbiología I, leída el 20-12-2016
Collections