Publication:
Registro de los cambios humanos y naturales en el humedal de las Tablas de Daimiel (Ciudad Real. España)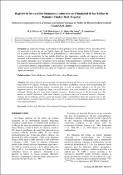 Advisors (or tutors)
Editors
Publisher
Sociedad Geológica de España.
Abstract
En el presente trabajo se presentan los datos polínicos de los primeros 50 cm. del sondeo PVC 4.1 localizado a la derecha del río Cigüela, dentro del Parque Nacional de las Tablas de Daimiel, con el fin de poder establecer la reconstrucción paleoambiental y paleoclimática así como la influencia del hombre en este ecosistema. Se han podido identificar dos importantes periodos de impactos sobre el humedal, el denominado periodo natural y el antrópico. Durante la primera fase de la secuencia (natural) los cambios detectados en el ecosistema fueron debidos fundamentalmente a variaciones climáticas ante las cuales la vegetación tiene tendencia a la recuperación. Sin embargo, los cambios en el paisaje debidos a la actividad antrópica, especialmente la desecación y la sobreexplotación rompieron el ciclo natural, de manera que el ecosistema no ha sido capaz de recuperarse a pesar de los intentos para evitar la pérdida de superficie inundada.
This article presents polinical data from the first 50cm of the PVC 4.1 core, located on the right bank of the river Cigüela, on Parque Nacional de las Tablas de Daimiel, with the aim of establishing the paleoenviromental and paleoclimatic reconstruction, as well as human influence on the site. Two important periods with significant impact on soil moisture have been identified: the natural and the anthropic. During the first stage of the sequence (natural), changes detected on the ecosystem were due mainly to climatic variations. After those changes vegetation cover tend to natural recovery. However, changes due to anthropic activity, mainly desiccation and overexploitation, broke the natural cycle, to the extent that the ecosystem has not been able to recover on spite of several attempts made to prevent the loss of flooded surface.
Collections