Publication:
Revisiting the Sierra de la Zarzuela succession: the latest Ediacaran-?early Fortunian record from the Central Extremenian Great Anticlinory, Southern Central Iberian Zone, Iberian Massif, Spain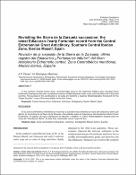 Advisors (or tutors)
Editors
Abstract
In the southern Central Iberian Zone, unconformably lying on the Cadomian folded Lower Alcudian-Domo Extremeño Supergroup the most complete succession of late Ediacaran rocks crops out at the Sierra de la Zarzuela syncline. The purpose of this contribution is to study and redefine a regional lithostratigraphic framework for the "Upper Alcudian" rocks of this area related to the Ibor Group.
En la Zona Centroibérica meridional se reconoce la sucesión más completa de rocas del Ediacárico tardío que afloran en el sinclinal de la Sierra de la Zarzuela, discordantes sobre el Supergroup del Alcudiense inferior-Domo Extremeño. El objetivo de esta contribución es estudiar y redefinir un marco litoestratigráfico regional para las rocas del "Alcudiense inferior" de este área relacionada con el Grupo de Ibor.
Collections