Publication:
Foraging at Solid Urban Waste Disposal Sites as Risk Factor for Cephalosporin and Colistin Resistant Escherichia coli Carriage in White Storks (Ciconia ciconia)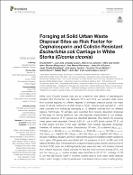 Advisors (or tutors)
Editors
Abstract
White stork (Ciconia ciconia) may act as a reservoir and vehicle of cephalosporin resistant (CR) Escherichia coli. Between 2011 and 2014, we sampled white storks from colonies exposed to different degrees of anthropic pressure across the major areas of natural distribution of white storks in Spain. Cloacal swab samples (n = 467) were obtained from individuals belonging to 12 different colonies from six different regions. Additionally, 70 samples were collected from recently deposited droppings at the base of nesting platforms. We phenotypically characterized E. coli isolates, confirmed presence of CR genes and classified plasmids. Risk factors for acquiring these genes were assessed. Overall, 8.8% (41 out of 467) storks carried CR E. coli in their cloaca and five (7.1%) were identified from recently deposited droppings; therefore, 46 isolates were further characterized. Of them, 20 contained blaCTX−M−1, nine blaCMY−2, six blaCTX−M−14, four blaSHV−12, three blaCTX−M−15, two blaCTX−M−32, one blaCTX−M−1 together with blaCMY−2, and one blaCTX−M−1 together with blaSHV−12. All were multidrug-resistant, and four harbored the plasmid-mediated colistin resistance mcr-1 gene. CR genes were associated with the presence of IncI1, IncFIB, and IncN replicon families. XbaI-macrorestriction analysis revealed a great diversity among most of the XbaI-PFGE types, but indistinguishable types were also seen with isolates obtained from different locations. Clonal complex 10 was the most common among CR E. coli and two blaCTX−M−15 positive isolates were identified as B2-ST131. Carriage of CR E. coli was significantly higher in colonies located close to solid urban waste disposal sites in which foraging on human waste was more likely and in one case to cattle grazing. The co-occurrence of blaCMY−2 and mcr-1 on plasmids of E. coli isolated from wild birds as early as 2011 is of note, as the earliest previous report of mcr-1 in wild birds is from 2016. Our study shows that foraging at landfills and in association with cattle grazing are important risk factors for the acquisition of CR E. coli in white storks.
Collections