Publication:
Role of hepatocytic Xbp1 in a preclinical model of toxic liver injury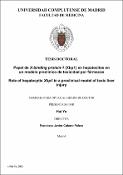 Files
Authors
Advisors (or tutors)
Editors
Publisher
Universidad Complutense de Madrid
Abstract
Drug-induced liver injury (DILI) is a leading cause of acute liver injury, including acetaminophen (APAP) overdose. Endoplasmic reticulum (ER) stress is an unexplored but very likely a triggering mechanism of APAP-induced liver injury. Under stress conditions, ER can initiate the unfolded protein response (UPR). However, the mechanisms of ER stress and UPR remain poorly understood. In this study, we overall aimed to unveil the relevance of the IRE1α-XBP1 arm, the most highly conserved arm of UPR, during APAP-induced acute liver failure (ALF) and provide the basis for therapeutic intervention...
La lesión hepática inducida por fármacos (DILI) es una de las principales causas de lesión hepática aguda, incluida la sobredosis de acetaminofén (APAP). El estrés del retículo endoplásmico (ER) es un mecanismo sin explorar, pero muy probablemente, desencadenante de la lesión hepática inducida por APAP. En condiciones de estrés, ER puede iniciar la respuesta de proteína desplegada. Sin embargo, los mecanismos del estrés ER y UPR siguen siendo poco conocidos. En este estudio, nuestro objetivo general fue develar la relevancia del brazo IRE1α-XBP1, el brazo más conservado de UPR, durante la insuficiencia hepática aguda inducida por APAP y proporcionar la base para la intervención terapéutica...
Description
Tesis inédita de la Universidad Complutense de Madrid, Facultad de Medicina, Departamento de Inmunología, Oftalmología y ORL, leída el 02/02/2021
Collections