Publication:
Los saharauis del sur de Marruecos y la cuestión del Sáhara Occidental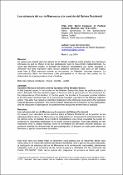 Authors
Advisors (or tutors)
Editors
Abstract
Un aspect peu abordé dans les études sur le Sahara occidental est la position des Sahraouis ethniques du sud du Maroc et de leur participation dans le mouvement indépendantiste. Au cours des dernières années, le transfert de l'initiative contestataire aux zones occupées a démontré leur forte implication dans l'action collective sahraouie. Cela pose un défi majeur aussi bien à l'État marocain comme au mouvement de libération nationale sahraoui. La communication décrit les dimensions cette participation et le discours des parties sur ce phénomène et propose plusieurs axes d'analyse.
A little boarded aspect in the studies on the Western Sahara has been the political position of ethnic Sahrawis from the southern region of Morocco and its participation in the movement for the independence of this territory. In the last years, the transfer of the popular protests initiative to the Occupied Territories has put in evidence its important implication in the Sahrawi collective action. This actor has raised an important challenge to the Moroccan state and to the Saharawi national liberation movement. The communication describes the dimensions of this participation and the discourse of each part on this phenomenon and points several lines of analysis.
Un aspecto poco abordado en los estudios sobre el Sahara Occidental, es la posición de los saharauis étnicos del sur de Marruecos y su participación en el movimiento independentista. En los últimos años, el traslado de la iniciativa contestataria a las zonas ocupadas ha puesto en evidencia su importante implicación en la acción colectiva saharaui. Este actor plantea un reto importante tanto al estado marroquí como al movimiento de liberación nacional saharaui. La ponencia describe las dimensiones de esta participación, el discurso de cada parte sobre este fenómeno y apunta varios líneas de análisis