Publication:
Modificación superficial por láser de recubrimientos protectores de Al sobre acero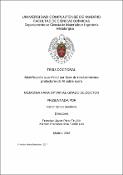 Files
Authors
Advisors (or tutors)
Editors
Publisher
Universidad Complutense de Madrid
Abstract
Esta investigación de Tesis, teniendo por título Modificación Superficial por Láser de Recubrimientos Protectores de Al sobre Acero, se circunscribe al campo de la Ingeniería de Materiales, particularmente la de Superficies. Con esta idea se ha tomado como referencia un sistema material conformado por un recubrimiento metálico sobre acero (aluminuros de Fe sobre acero grado P92), de uso extendido en el sector energético convencional, con combustibles fósiles. Aplicando un procesado láser avanzado se busca optimizar las propiedades químicas y físicas que confieren el carácter protector último a un recubrimiento, haciéndolo más versátil y competitivo frente a otras alternativas de protección. De forma práctica se ha buscado procesar tanto sistemas materiales en los que ya se hubiera formado la capa protectora de aluminuros de Fe, como obtener dicha capa mediante el procesado de muestras de acero con una precapa de Al. Al contar con ambos enfoques se permite valorar con mayor precisión el alcance y desarrollo del tratamiento láser aplicado. Convencionalmente el procesado láser en ingeniería de superficies, enfocada a recubrimientos protectores, ha adolecido de carencias significativas en la calidad del acabado superficial y de la microestructura de las fases constitutivas del sistema protector. Modificando el uso del haz láser respecto al procedimiento habitual usado en, por ejemplo, la fabricación de plaqueados metálicos (cladding), pueden llegar a lograrse notables avances...
This Thesis research, having for title: Laser Surface Modification of Al Protective Coatings on Steel, is circumscribed to Materials Engineering, more specifically, to Surface Engineering. With this main idea, it has been taken as a reference a material system formed by a metallic coating on a steel (iron aluminides on P92 grade steel), with a wide usage in the conventional energies sector, with fossil fuels. Applying a laser treatment it is aimed to optimized the chemical and physical properties that provide coating's protective properties, thus making it more versatile and competitive compared to other protection alternatives. In a practical way, it has been studied material systems in which the protective layer of Fe aluminides had already been consolidated, as well as to obtain this layer by the processing of steel samples with an Al precoating. Considering both approaches it is allowed to value more precisely the reach and development of the laser treatment applied. Conventionally laser processing in surface engineering, focused on protective coatings, has suffered from significant deficiencies in the quality of the surface finish and the microstructure of the constitutive phases of the protective system. By modifying the use of the laser beam with respect to the usual procedures as cladding, remarkable advances could be expected. In this sense, two key experimental parameters have been considered: laser scanning velocity on the surface, and sample's displacement velocity, perpendicular to the scanning movement. In addition, the influence of the process atmosphere has been explored because of its key influence on the characteristics of the resulting coating...
Description
Tesis inédita de la Universidad Complutense de Madrid, Facultad de Ciencias Químicas, Departamento de Ciencia de Materiales e Ingeniería Metalúrgica, leída el 19-06-2017
Collections