Publication:
Aplicación de técnicas computacionales de acoplamiento molecular en desarrollo enzimático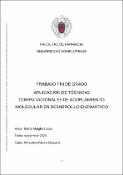 Authors
Advisors (or tutors)
Editors
Abstract
Un elevado número de reacciones químicas pueden tener lugar de forma espontánea, mientras que otras, para que se produzcan, necesitan la presencia de catalizadores. Las enzimas son catalizadores de reacciones biológicas estudiadas desde hace años. El hecho de ser biodegradables, quimioselectivas, regioselectivas, enantioselectivas, así como la elevada velocidad de las reacciones que catalizan y las suaves condiciones a las que estas reacciones tienen lugar, han hecho que las enzimas se conviertan en un objetivo importante en el proceso de desarrollo farmacológico. Analizar cuál es la conformación espacial del complejo sustrato-enzima y conocer las interacciones que intervienen en esta unión es un elemento de conocimiento importante tanto en el proceso de descubrimiento de nuevos fármacos como en el desarrollo de sustratos de mayor afinidad por la enzima. El establecimiento de un modelo conformacional se obtiene mediante la aplicación de técnicas de acoplamiento molecular, en las que el sustrato adopta diferentes poses dentro del centro catalítico de la enzima, resultando las más estables aquellas cuya energía de enlace sea menor. En este estudio bibliográfico se detallan los aspectos más importantes de las reacciones biocatalíticas y de la técnica de acoplamiento molecular o técnica docking. Aportando finalmente ejemplos en los que se ha utilizado esta técnica para el desarrollo de fármacos en cuya actividad están implicadas las enzimas.
A high number of chemical reactions happen spontaneously, while others need the presence of catalysts. Enzymes are catalysts for biological reactions and they have been studied for years. Due to properties such as biodegradability, chemoselectivity, regioselectivity, enantioselectivity, as well as the high speed in the catalytic reaction and the mild conditions in which this reaction takes place, enzymes are a major goal in the process of pharmacologic development. Analyzing the spatial conformation of the substrate-enzyme complex and defining the interactions involved in this union are considered important knowledge for new drugs discovery and high affinity substrates development. The development of a new conformational model is obtained using molecular coupling techniques, in which the substrate takes different positions inside the catalytic center of the enzyme. As a result, the more stable enzymes are those with lower bond energy. This bibliographic review details the most important aspects of biocatalytic reactions and the docking technique. It also provides several examples in which this technique has been used for the development of drugs in whose activity enzymes are involved.