Publication:
Regulatory mechanisms of melatonin synthesis in the control of intraocular pressure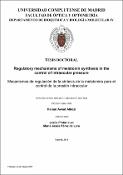 Authors
Advisors (or tutors)
Editors
Publisher
Universidad Complutense de Madrid
Abstract
Ocular hypertension, although not considered a disease itself, it leads to glaucoma which eventually cause irreversible vision loss. Consequently, glaucoma therapeutic approach is to lower intraocular pressure (IOP). Nonetheless, anti-glaucoma drugs come often with several side effects that can lead to treatment withdrawal in some cases. In this context, melatonin and its analogs emerges as potential complimentary/alternative treatment, offering the advantage of hypotensive and antioxidant properties. The present PhD thesis aim to investigate endogenous melatonin content in the aqueous humor and describes mechanisms involved in detecting increased IOP, along with a focus on the possibility of melatonin receptors to interact with different receptors with the intention to find a more effective combined therapeutical approach. Finally, to study the attribution of the crystalline lens to the aqueous humor melatonin content and to discover the regulation of its synthesis in this ocular structure. Results showed a correlation between melatonin levels in the aqueous humor and IOP. Melatonin levels were found higher in patients with elevated IOP. Using a glaucomatous animal model (DBA/2J) it was possible to corroborate our findings. In vitro assays pointed to the participation of the TRPV4 channel, which is sensitive to pressure, among other stimuli. Activation of the mentioned channel in human immortalised nonpigmented ciliary body epithelial cells resulted in an increment of melatonin secretion through the increase of aralkylamine N-acetyltransferase (AANAT) expression, the first enzyme in melatonin synthesis. In addition, short term assays showed that the TRPV4 activation leaded to AANAT phosphorylation through a cascade of intracellular events that involves the participation of calmodulin and calcium-calmodulin dependent protein kinase II. This phosphorylation activates AANAT and therefore melatonin synthesis is stimulated...
La hipertensión ocular, aunque no se considera una enfermedad en sí, es un factor de riesgo para desarrollar glaucoma, que eventualmente causa pérdida irreversible de la visión. En consecuencia, el enfoque terapéutico más habitual en el glaucoma es reducir la presión intraocular (PIO). No obstante, los fármacos anti-glaucomatosos presentan varios efectos secundarios que pueden conducir a la retirada del tratamiento en algunos casos. En este contexto, la melatonina y sus análogos emergen como un tratamiento complementario/ alternativo, ofreciendo la ventaja de poseer propiedades hipotensoras y antioxidantes. La presente tesis doctoral tiene como objetivo investigar el contenido de la melatonina endógena en el humor acuoso y describir los mecanismos implicados en la detección de los cambios en la IOP. Igualmente se estudia la capacidad de los receptores de melatonina para interactuar con otros receptores con la intención de encontrar un enfoque terapéutico combinado más eficaz. Finalmente, esta tesis también estudia la contribución del cristalinoen su aporte de melatonina al humor acuoso. Los resultados han mostrado una correlación entre los niveles de melatonina en el humor acuoso y la PIO. Los niveles de melatonina se encontraron más altos en pacientes con PIO elevada. El uso de modelo animal glaucomatoso (DBA/2J) corroboró nuestros hallazgos de una manera consistente. Por otro lado, los ensayos in vitro señalaron la participación del canal TRPV4, proteína que es sensible a la presión,como principal activador de la sintesis de la melatonina. De este modo, la estimulación de este canal en células epiteliales del cuerpo ciliar no pigmentadas inmortalizadas humanas dio como resultado un incremento de la secreción de melatonina a través de un aumento de la expresion de la Aralquilamina N-acetiltransferasa(AANAT), la primera enzima en la síntesis de melatonina. Además, los ensayos a corto plazo mostraron que la activación de TRPV4 induce a la fosforilación de AANAT, y su activación, a través de una cascada de eventos intracelulares implica la participación de la calmodulina y la calmodulina quinasa II dependiente de calcio-calmodulina...
Description
Tesis de la Universidad Complutense de Madrid, Facultad de Óptica y Optometría, Departamento de Bioquímica y Biología Molecular IV, leída el 10/11/2017
Collections