Publication:
Modulación farmacológica con lidocaína intravenosa de la respuesta inflamatoria y apoptótica inducida por isquemia-reperfusión en un modelo experimental porcino de autotrasplante pulmonar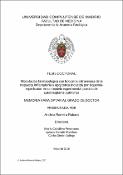 Files
Authors
Advisors (or tutors)
Editors
Publisher
Universidad Complutense de Madrid
Abstract
El síndrome de isquemia reperfusión (SIR) se define como el proceso que sufre un órgano sometido temporalmente a la falta de flujo sanguíneo y a la reperfusión posterior con sangre oxigenada. El SIR pulmonar es un fenómeno de gran relevancia clínica, pues afecta directamente a la morbimortalidad temprana del trasplante de este órgano. Es la primera causa de fallo primario del injerto, aumenta el riesgo de rechazo agudo y, a largo plazo, de rechazo crónico. Los dos fenómenos claves en su etiopatogenia son la respuesta inflamatoria y la apoptosis. Existen numerosas estrategias terapéuticas encaminadas a atenuar ambos y disminuir así sus graves consecuencias clínicas. La lidocaína, además de su utilización tradicional como anestésico local y antiarrítmico, podría poseer efectos moduladores del daño pulmonar...
Ischemia-reperfusion injury (IRI) is defined as the process experienced by an organ temporarily undergoing a lack of bloodstream and the subsequent reperfusion with oxygenated blood. The lung IRI is a phenomenon of great clinical importance, for it directly affects early morbidity and mortality of this organ's transplantation. It is the main cause of primary graft failure, it increases the risk of acute rejection and, in the long term, of chronic rejection. The key phenomena in its etiopathogenesis are the inflammatory response and apoptosis. There are several therapeutic strategies to mitigate both of them and thus reduce its severe clinical consequences. Lidocaine, apart from its traditional use as a local and antiarrhythmic anesthetic, could have a modulating role on lung injury...
Description
Tesis de la Universidad Complutense de Madrid, Facultad de Medicina, Departamento de Anatomía Patológica, leída el 21-06-2017
Collections