Publication:
La construcción de la mirada artificial a comienzos del tercer milenio. Aproximación crítica a los bancos de imágenes fotográficos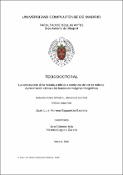 Files
Advisors (or tutors)
Editors
Publisher
Universidad Complutense de Madrid
Abstract
La presente tesis analiza los factores que influyen en la construcción de la mirada contemporánea a través del papel de la fotografía en las redes de Internet ya sea con fines sociales o de explotación de imágenes. Hemos investigado la evolución de la fotografía con la llegada de los procesos digitales y la aparición de los nuevos dispositivos de captura que simplifican la obtención de fotografías. Nuestro objeto de estudio también trata de la convergencia con otras ciencias que estudian el funcionamiento del cerebro y el sistema visual humano en relación con la representación fotográfica digital para mejorar tecnológicamente nuestras capacidades visuales. En los últimos 15 años se ha transformado nuestra manera de pensar el mundo y de representarlo. La influencia de la tecnología en la globalización ha tenido consecuencias a nivel social, cultural o económico. La conectividad humana está siendo clave en estos procesos y permite una visión más cosmopolita del mundo, aunque también se nos impone un punto de vista cada vez más dirigido y controlado. En este contexto surgen las redes sociales, dotadas de potentes herramientas de comunicación, organización y participación, lo que ha supuesto un proceso de empoderamiento y capacidad para transformar el mundo o, al menos, la percepción que tenemos del mismo. En este fenómeno global participan también las imágenes fotográficas que se han visto exponencialmente multiplicadas con la aparición de los nuevos medios. El acceso a terminales conectados a Internet y la aparición de cámaras digitales que más tarde se fusionan en dispositivos móviles, los cada vez más extendidos smartphones, han transformando nuestra forma de relacionarnos con la imagen. En el siglo XXI, el uso de la fotografía está al alcance de cualquier "usuario" del primer mundo, que ya no tiene que aprender conocimientos complicados para hacer sus propias fotografías...
This current thesis analyses the facts that influence the construction of the contemporary views through photography in the Internet, whether for social or business related purposes. We have researched on the evolution of photography through the digital processes, and the birth of new devices that have simplified the process of taking pictures. As well as the convergence with other sciences that study the relationship between the human brain and the visual system, in connection to the digital photographical representation, in order to technologically improve our visual abilities. In the past 15 years the way we perceive and depict the world has undergone big changes. The influence of technology in the era of globalization has had consequences at a social, cultural and economic level. Human interconnectivity is key in these processes and enables a more cosmopolitan, direct and controlled vision of the world. In this context, social networks have been created, characterized by powerful communication, organization and new tools. This has translated into a process of empowerment and the capacity to transform the world or, at least, our perception of it. In this global phenomenon, thanks to the new media, photographs play an important role. The access to devices connected to the Internet and the birth of digital cameras –that eventually would be integrated into mobile devices, such as the increasingly popular smartphones- have transformed our relationships with the visual image. In the 21st century, photographs are within reach of any "user" from the first world who is not required to learn complex concepts in order to take pictures. This enables the production of direct, new and spontaneous images from any device, that document thousands of daily events that, in turn, will complement our perception of the world...
Description
Tesis inédita de la Universidad Complutense de Madrid, Facultad de Bellas Artes, Departamento de Dibujo II (Diseño e Imagen), leída el 22 de enero de 2016 ; presidente, Luis Castelo Sardina
Collections