Publication:
Entre el trabajo y el cuerpo: motivos, estrategias y dilemas de los profesionales por cuenta propia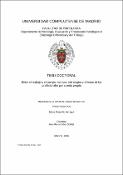 Files
Authors
Advisors (or tutors)
Editors
Publisher
Universidad Complutense de Madrid
Abstract
La Tesis parte de la hipótesis de que las mujeres profesionales que deciden emprender por cuenta propia tras una etapa como asalariadas, a diferencia de los hombres, representan símbolos de cambio a la hora de emprender un proyecto profesional propio más coherente con sus valores y de relacionarse con los demás y crear redes (Ibarra, 2004). Esto supondría la emergencia de un cambio cultural y social más profundo en el mundo laboral (Castells, 2012) bajo el paradigma del trabajo flexible y por proyectos (Boltansky y Chiapello, 2002). El objetivo de esta investigación, acotada a la Comunidad de Madrid, ha sido identificar los motivos, estrategias profesionales y personales y dilemas de profesionales por cuenta propia vinculados a la economía del conocimiento para valorar su significado social en relación a este paradigma dominante (Marzano, 2009). Ha sido definido un perfil de autónomo o pequeño empresario con base a las variables sexo, rangos de edad, años de antigüedad, nivel de estudios, origen social y nivel de ingresos respecto a su trabajo anterior. Fueron realizadas 20 entrevistas, catorce a profesionales de áreas como tecnología, marketing, recursos humanos, entre otros; y seis a expertos de servicios públicos y privados de asesoría al emprendedor, de asociaciones de autónomos y de sindicatos. Este planteamiento cualitativo fue completado con: i) un análisis cuantitativo de la situación comparada del trabajo por cuenta propia en Europa y España, con énfasis en la Comunidad de Madrid; y ii) una revisión documental acerca de la evolución y características del fenómeno del emprendimiento en España. El periodo analizado es el de un entorno de crisis y de destrucción de autoempleo (2008-2015) pero con una más rápida recuperación en el sector investigado y —liderado por la Comunidad de Madrid— entre las mujeres. En ese periodo, el autónomo "persona física" tomó el relevo a las figuras societarias como fórmula preferente para la creación de empresas. En tal contexto, las entrevistas a expertos ponen de relieve la existencia de una 'estratificación social' del emprendedor y cómo, ante las limitaciones de los servicios públicos de apoyo, la asesoría a estos profesionales freelancers se convierte en un nicho de mercado para las empresas privadas especializadas en emprendimiento...
This thesis sets off from the hypothesis that, female professionals who decide to become self-employed after working as employees, unlike men, represent symbols of change where they set up professional projects consistent with their own values, relationships with others and networks (Ibarra, 2004). This would mean deeper cultural and social change could emerge in the world of work (Castells, 2012) under the paradigm of flexible and contract work (Boltansky and Chiapello, 2002). The objective of this research, limited to the Community of Madrid, was to identify the motives, the personal and professional strategies and the dilemmas of self-employed professionals involved in the knowledge economy sector to assess their social significance in relation to this dominant paradigm (Marzano, 2009). The profiles of self-employed workers or small business holders have been defined according to the variables: gender, age ranges, years of work, level of studies, social background and income levels at their previous work. A total of 20 interviews were conducted, including 14 with professionals in areas such as technology, marketing and human resources, among others; as well as 6 experts from public and private entrepreneurial advisory services, autonomous associations and trade unions. This qualitative approach was complemented by; i) a quantitative analysis of self-employment, comparing the situation in Europe and Spain, highlighting the Community of Madrid; and ii) a literature review about the evolution and features of the phenomenon of entrepreneurship in Spain. In the period analysed crisis and destruction characterize the context of self-employment (2008-2015) although the investigated sector enjoys a faster recovery, even -led by the Community of Madrid- among women. In this period, the "natural person" of the self-employed worker took over from corporate entities as the preferred form for the creation of companies. In this context, the interviews with experts underline the existence of 'social stratification' among entrepreneurs and how, because of the constraints of public support services, advising these freelance professionals becomes a niche market for private companies specialized in entrepreneurship..
Description
Tesis inédita de la Universidad Complutense de Madrid, Facultad de Psicología, Departamento de Psicología Diferencial y del Trabajo, leída el 19-01-2016
Collections