Publication:
Integrability and non-perturbative effects in the AdS/CFT correspondence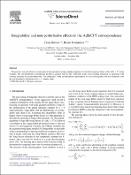 Advisors (or tutors)
Editors
Abstract
We present a non-perturbative resummation of the asymptotic strong-coupling expansion for the dressing phase factor of the AdS5 × S5 string S-matrix. The non-perturbative resummation provides a general form for the coefficients in the weak-coupling expansion, in agreement with crossing symmetry and transcendentality. The ambiguities of the non-perturbative prescription are discussed together with the similarities with the non-perturbative definition of the c = 1 matrix model.
Description
© 2006 Elsevier B.V.We are grateful to A. Delgado and A. Sabio Vera for discussions. The work of C.G. is partially supported by the Spanish DGI contract FPA2003-02877 and CAM project HEPHACOS P-ESP-00346.
Collections