Publication:
Bienes de capital, flujos tecnológicos y cambio estructural: los casos de Estados Unidos, Japón y Alemania, 1980-2005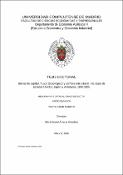 Files
Authors
Advisors (or tutors)
Editors
Publisher
Universidad Complutense de Madrid
Abstract
La innovación tecnológica se encuentra estrechamente vinculada con el desenvolvimiento de la estructura productiva. Durante mucho tiempo, esta relación era muy evidente, ya que la tecnología como fuente impulsora del crecimiento se asociaba a la inversión en maquinaria y equipo. Ésta última, integraba el componente de innovación que generaba el incremento en productividad. El modelo neoclásico ortodoxo centro el estudio del crecimiento económico en el estudio de Solow (1957), quien explica que la fuente del crecimiento se encuentra en un factor exógeno, que identifica como cambio tecnológico y, de esta manera, resta importancia a la inversión como un determinante del incremento en el producto. En consecuencia, los aportes teóricos recientes, particularmente el neoclásico, centran su atención en los factores que inciden en la generación y desarrollo de innovaciones, pero dejan de lado la vinculación con la estructura económica. En este trabajo se analiza la importancia de los bienes de capital en Alemania, Japón y Estados Unidos, empleando tablas input-output, durante 1980 y 2005, definiendo la vinculación entre cambio tecnológico y la estructura productiva. 1. Síntesis El objetivo es demostrar que la industria de bienes de capital vincula la dinámica tecnológica y los procesos de innovación con el desenvolvimiento de la estructura productiva, por ser clave en el desarrollo económico como fuerza motriz del sistema al generar cambio tecnológico, transferir innovaciones y articular el cambio tecnológico con la estructura productiva. De la Tesis se extraen los siguientes resultados: a) Desde una visión teórica Nathan Rosenberg justifica la importancia de los bienes de capital, por su capacidad de generar cambio tecnológico incorporado, así como por su carácter articulador con otros sectores productivos, favoreciendo el proceso de desarrollo económico. Por el lado metodológico, el análisis input-output resulta ser el más idóneo para el propósito de la investigación. b) La importancia del cambio tecnológico Mediante el estudio de patentes, se demostró que la dinámica de innovación del sector está relacionada con los flujos de conocimiento, al crear y difundir innovaciones, y por su habilidad de asimilar los avances generados en otros sectores. Con el empleo del "Análisis de Flujo Mínimo", se determina que los bienes de capital juegan un papel destacado por sus efectos de propagación del esfuerzo innovador; asimismo, por ser generadores de innovaciones, su inversión en I+D se traduce en una alta capacidad para impactar a los sectores con los que se vincula...
Technological innovation is closely linked to the development of the productive structure. For a long time, this relationship was very evident, since the technology as a driving source of growth was associated with investment in machinery and equipment. The latter integrated component of innovation generated by the increase in productivity. The orthodox neoclassical model focus study of economic growth in the study of Solow (1957), who explains that the source of the growth is in an exogenous factor, that identifies as technological change and, thus, it downplays the investment as a determinant of the increase in the product. As a result, the recent theoretical contributions, particularly the neoclassical, focus their attention on the factors that affect the generation and development of innovations, but they put aside the linkage with the economic structure. This paper discusses the importance of capital goods in Germany, Japan and United States, using input-output tables during 1980-2005, defining the link between technological change and the productive structure 1. Synthesis The aim is to show that the capital goods industry linked technological dynamics and processes of innovation with the development of the productive structure, being key in economic development as the driving force of the system to generate technological change, transferring innovations and joint technological change with the productive structure. Of the thesis are the following results: a) From a theoretical vision Nathan Rosenberg justify the importance of capital goods, by their ability to create embodied technological change, as well as its articulating character with other productive sectors, promoting economic development process. On the methodological side, the input-output analysis turns out to be the most suitable for the purpose of research. b) The importance of technological change Through the study of patent, it was demonstrated that the dynamics of innovation in the sector is linked to flows of knowledge, to create and disseminate innovations, and by its ability to assimilate advances generated in other sectors. By using the "Minimum Flow Analysis", it is determined that capital goods play prominent role by its spillovers effects for their innovative efforts; also, for being generators of innovation, its r & d investment translates into a high capacity to sectors that is linked...
Description
Tesis inédita de la Universidad Complutense de Madrid, Facultad de Ciencias Económicas y Empresariales, Departamento de Economía Aplicada II (Estructura Económica y Economía Industrial), leída el 21-01-2016
Collections