Publication:
Trasplante renal de bloque pediátrico: otro tratamiento más para la insuficiencia renal crónica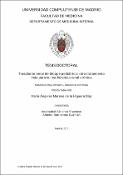 Files
Advisors (or tutors)
Editors
Publisher
Universidad Complutense de Madrid
Abstract
INTRODUCCIÓN. La disparidad entre el número de pacientes con Enfermedad renal crónica en lista de espera para trasplante de un riñón y la disponibilidad de donantes de órganos continúa creciendo. Los tiempos prolongados en lista de espera y los largos periodos en diálisis han sido asociados con una significativa morbilidad y mortalidad. Mientras, varios intentos han sido realizados para aumentar el pool de donantes, incluyendo el uso de donantes con criterios expandidos, la donación en asistolia, el uso de trasplantes dobles de donantes con criterios expandidos y el uso de riñones pediátricos. El trasplante en bloque pediátrico (TDP) nace con el objetivo de incrementar el pool de donantes debido a la demanda de órganos existente. En sus inicios fue considerado como un tipo de trasplante subóptimo debido a que se asociaba con una alta incidencia de complicaciones vasculares, urológicas e inmunológicas. No obstante, en los últimos años varios estudios demuestran que incluso el trasplante de riñones subóptimos proporciona un beneficio mayor en cuanto a supervivencia del paciente con respecto a permanecer en diálisis. JUSTIFICACION/HIPOTESIS Y OBJETIVOS. En la literatura del trasplante pediátrico no existe ninguna cohorte unicéntrica que tenga el tamaño muestral de la serie analizada en este estudio (perteneciente a los TDP del Hospital Clínico San Carlos) ni con el tiempo de seguimiento que se ha realizado. Por ello que el objetivo principal de este estudio ha sido actualizar los datos sobre el Trasplante en bloque pediátrico sobre la serie más importante que existe a nivel mundial. Hipótesis: El trasplante renal de bloque pediátrico es un tipo de trasplante optimo y comparable en resultados a los clásicos trasplantes de donantes adultos de muerte cerebral. Objetivo principal: Demostrar la validez del trasplante renal como trasplante renal optimo y comparable al resto de trasplantes conocidos como óptimos...
INTRODUCTION. The disparity between the number of patients with end-stage renal disease (ESRD) on the kidney transplant waiting list and the availability of deceased donor organs continues to grow. The prolonged waiting time for kidney transplantation and associated longer periods on dialysis have been associated with significant morbidity and mortality. While attempts have been made to maximize the donor pool, including the use of expanded criteria donors, donation following cardiac death and transplantation of both kidneys from an expanded criteria donor to one recipient, the optimal use of small pediatric donors has been less clear. En bloc pediatric transplantation (EBPT) began with the aim of increasing donor pool due to the existing high demand for donors. At its inception it was considered a type of suboptimal transplantation due to its association with a high incidence of vascular, urological and immunological complications. Nevertheless, in the last years several studies have shown that even transplantation of suboptimal kidneys offers a higher benefit in regards of patient survival as compared to remaining on dialysis. RATIONALE/HYPOTHESIS AND OBJECTIVE. There is no single-centre cohort studies in the literature involving pediatric transplantation that equals the sample size of the series analyzed in this study (belonging to the EBPT of Hospital Clínico San Carlos) nor with the follow-up time of this study. For that reason, the main objective of this study was to update information on En bloc pediatric transplantation with the most important case series that exists on a worldwide scale. Hypothesis: En bloc pediatric transplantation is an optimal type of transplantation and with results that are comparable to classical transplantation with adult brain death donors. Main objective: To demonstrate the validity of En bloc renal transplantation as an optimal renal transplantation and comparable to the rest of known optimal transplantation types...
Description
Tesis inédita de la Universidad Complutense de Madrid, Facultad de Medicina, Departamento de Medicina Interna, leída el 01/02/2016
Collections