Publication:
Influencia del ambiente sobre la capacidad de diferenciación de las células madre mesenquimales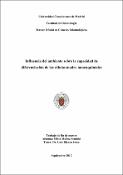 Authors
Advisors (or tutors)
Editors
Citation
Alge, Daniel L. "Donor-matched comparison of dental pulp stem cells and bone marrow-derived mesenchymal stem cells in a rat model". J Tissue Eng Regen Med 2010; 4: 73–81. Angelova, Ana. "Stem cell-based biological tooth repair and regeneration". Trends in Cell Biology, Dec 2010; Vol 20, No 12. Annalia Astia. "Improved cell growth by Bio-Oss/PLA scaffolds for use as a bone substitute". Technology and Health Care 2008; 16: 401–413. Baer. P.C. "Conditioned medium from renal tubular epithelial cells initiates differentiation of human mesenchymal stem cells". Cell Prolif. 2009; 42, 29–37. Barnett Phil. "Cardiac regeneration: different cells same goal". Med Biol Eng Comput 2011; 49:723–732. Basciano et al. "Long term culture of mesenchymal stem cells in hypoxia promotes a genetic program maintaining their undifferentiated and multipotent status" BMC Cell Biology 2011; 12:12. Bianco P, Robey PG. "Stem cells in tissue engineering". Nature 2001; 414:118-21. Bianco, Riminucci, Gronthos et al. "Bone Marrow Stromal Stem Cells: Nature, Biology, and Potential Applications". Stem Cells 2001; 19:180-192. Barradas, Yuan, Blitterwifk et al. Osteoinductive biomaterials: Current knowledge of properties, experimental model and biological mecanisms. European cells and materials. Vol 21, 2011; 407-429. Bobis Sylvia, Jarocha D, Majka M. "Mesenchymal stem cells: characteristics and clinical applications". Folia Histochem Cytobiol, 2006; 44(4):215-230. Chan.B, Wong, K, Rabie.B. "In vivo production of mineralised tissue pieces for clinical use: a qualitative pilot study using human dental pulp cells". Int. J. Oral Maxillofac. Surg, 2011; 40: 612-620. Charlotte Morrison, Stephanie Mancini, Jane Cipollone, Reinhild Kappelhoff. "Microarray and Proteomic Analysis of Breast Cancer Cell and Osteoblast Co-cultures: Role of osteoblast matrix metalloproteinase (MMP)-13 in bone metastasis". The Journal of Biological Chemistry September 30, 2011, vol 286, No. 39, pp. 34271–34285. Chen Pei-Min, Men-Luh Yen, Ko-Jiunn Liu, "Immunomodulatory properties of human adult and fetal multipotent mesenchymal stem cells". Journal of Biomedical Science 2011; 18:49. Cheneval D.R, J. Christy, D. Geiman, P. Cornelius. "Cell-free transcription directed by the 422 adipose P2 gene promoter: activation by the CCAAT/enhancer binding protein". Proc. National Academy of Sciences USA 1991; 88:8465-69. Dai WD, Hale SL, Martin BJ et al. "Allogeneic mesenchymal stem cell transplantation in postinfarcted rat myocardium: Short- and long-term effects". Circulation 2005; 112: 214–23. Datta. Indrani, Swati Mishra, Lipsa Mohanty . "Neuronal plasticity of human Wharton's jelly mesenchymal stromal cells to the dopaminergic cell type compared with human bone marrow mesenchymal stromal cells". Cytotherapy. September 2011, Vol. 13, No. 8, p 918-932. Dominici, M, Le Blanc, K, Mueller. "Minimal criteria for defining multipotent mesenchymal stromal cells. The International Society for Cellular Therapy position statement". Cytotherapy 2006; vol 8, no. 4, pp. 315-317. Duplomb, L et al. "Concise Review: Embryonic Stem Cells: A New Tool to Study Osteoblast and Osteoclast Differentiation". Stem cell 2007; 25, p544-552. Estrada. C, Paz. AC, López. LE. "Ingeniería de tejido óseo: consideraciones básicas". Revista EIA, Junio 2006; Número 5 p. 93-100. Estrada Roberto, Venegas Patricia. Comparación de diferentes protocolos para el cultivo de células madre mesenquimales de origen adiposo. Rev. costarric. cienc. méd , junio 2007; v.28 n.1-2. Estrela, Carlos et al. "Mesenchymal Stem Cells in the Dental Tissues:Perspectives for Tissue Regeneration". Braz Dent J 2011; 22(2): 91-98. Fernández Tresguerres Hernández-Gil et al. "Bases fisiológicas de la regeneración ósea I. Histología y fisiología del tejido óseo". Med Oral Patol Oral Cir Bucal 2006; 11: E471-51. Forriol F, Esparza R. "Tissue engineering: application of pluripotent stem cells in traumatology and orthopaedic Surgery". Trauma Fund MAPFRE 2008; Vol 19 nº 2:88-101. Fraser JK, Wulur I, Alfonso Z, Hedrick MH. "Fat tissue: an underappreciated source of stem cells for biotechnology". Trends Biotechnol 2006; 24:150–154. Friedenstein AJ, Gorskaja U, Kalugina NN. "Fibroblast precursors in normal and irradiated mouse hematopoietic organs". Exp Hematol 1976; 4:267-274. Friedenstein AJ, Petrakova KV, Kurolesova AI, Frolova GP. "Heterotopic transplants of bone marrow. Analysis of precusor cells for osteogenic and hematopoietic tissues". Transplantation 1968; 6:230-47. García- Gómez, Gema Elvira, Zapata Agustin. "Mesenchymal stem cells: biological properties and clinical applications". Expert Opinion Biol October 2010; Vol. 10, No. 10, Pages1453-1468. Gil-Loizaga, Pablo. "Cultivo de células y tejidos animales, Teoría y prácticas". Facultad de Medicina, Universidad Complutense de Madrid, 2008. Gnecchi M, Zhang Z, Ni A, Dzau V. "Paracrine mechanism in adult stem cell signaling and therapy". Cir Res 2008; 103:1204-19. Gronthos S, Brahim J, Li W et al. "Stem cell properties of human dental pulp stem cells". J Dent Res, 2002; 81(8):531-535. Gronthos S, Mankani M, Brahim J, Robey PG. "Postnatal human dental pulp stem cells (DPSCs) in vitro and in vivo". Proc Natl Acad Sci USA, 2000; 97(25):13625-30. Guerado E, Díaz-Martín A, Arrabal MP, Cifuentes M. "Células madre e ingeniería tisular ósea: Bases celulares y perspectivas terapéuticas". Rev ortop traumatol, 2003; 47: 362-374. Hass. Ralf, Cornelia Kasper, Stefanie Böhm. "Different populations and sources of human mesenchymal stem cells (MSC): A comparison of adult and neonatal tissue-derived MSC". Cell Communication and Signaling 2011, 9:12. Hernández Ramírez. "Regenerating medicine related to the stem-cells and its mechanisms of action from adults cells". Revista Cubana de Hematología, Inmunología y Medicina Transfusional 2009; 25. Hinze, Stolzing "Differentiation of mouse bone marrow derived stem cells toward microglia-like cells" BMC Cell Biology 2011; 12:35. Hongchen Sun, Zhe Qu, Ying Guo. "In vitro and in vivo effects of rat kidney vascular endothelial cells on osteogenesis of rat bone marrow mesenchymal stem cells growing on polylactide-glycoli acid (PLGA) scaffolds". BioMedical Engineering On Line 2007, 6:41. Hwai-Shi Wang, Shih-Chieh Hung. "Mesenchymal Stem Cells in the Wharton's Jelly of the Human Umbilical Cord". Stem Cells dec 2004, Vol 22, Issue 7, p 1330–1337. Isabel Fernández Tresguerres Hernández-Gil et al. Bases fisiológicas de la regeneración ósea I. Histología y fisiología del tejido óseo. Med Oral Patol Oral Cir Bucal 2006; 11: E471-51. Jalil Daher. "Caracterización mediante citometría de flujo de diversas líneas celulares de origen mesenquimal para su aplicación en regeneración ósea". Trabajo fin de master en ciencias odontológicas. Facultad de Odontología UCM. 2012. Jordan CT, Guzman ML, Noble M. "Cancer stem cells". N Engl J Med 2006; 355:1253-61. Kern S, Eichler H, Stoeve J, Klüter H, Bieback K. "Comparative analysis of mesenchymal stem cells from bone marrow, umbilical cord blood or adipose tissue". Stem Cells, 2006; 24:1294-1301. Kern S, Eichler H, Stoeve J, Klüter H. "Comparative analysis of mesenchymal stem cells from bone marrow, umbilical cord blood or adipose tissue". Stem Cells, 2006; 24:1294-1301. Kolf CM, Cho E, Tuan RS. "Biology of adult mesenchymal stem cells: regulation of niche, self-renewal and differentiation". Arthritis Research & Therapy 2007; 9:204- 14. Lai, R.C, Choo, A. & Lim, S.K. "Derivation and characterization of human ESC- derived mesenchymal stem cells". Methods in molecular biology 2011; vol. 698, pp. 141-150. Lakshmipathy U, Verfaillie C. "Stem cell plasticity". Blood Rev, 2005; 19:29-38. Lazar-Karsten et al. "The influence of extracellular matrix proteins and mesenchymal stem cells on erythropoietic cell maturation". Vox Sanguinis 2011; 101, 65–76. Lee JA, Parrett BM, Conejero JA et al. "Biological Alchemy: engineering bone and fat from fat-derived stem cells". Ann Plast Surg, 2003; 50(6):610-617. Lindroos B, Mäenpää K, Ylikomi T, Oja H. "Characterisation of human dental stem cells and buccal mucosa fibroblasts". Biochem Biophys Res Commun, 2008; 368:329-335. Logeart-Avramoglou D, Anagnostou F, Bizios R, Petite H. "Engineering bone: challenges and obstacles". J Cell Mol Med 2005 January; 9(1):72-84. López-Guerrero, José Antonio. "Células madre. La madre de todas las células". Centro de Biología Molecular "Severo Ochoa". Ed. Hélice, 2da edición 2009. Masías-Abraham. "Características y funcionales de las células madre mesenquimales y endoteliales" Rev Cub Hematol. 2010; 26, 256-275. M.J. Evans y M.H. Kaufman. "Establishment in culture of pluripotential cells from mouse embryos". Nature julio 1981; vol 292. Ming Yan. "A Journey from Dental Pulp Stem Cells to a Bio-tooth". Stem Cell Rev and Rep, Mayo 2010. Miura. Masaco, Gronthos Stan, Zhao Mingrui. "SHED: Stem cells from human exfoliated deciduous teeth". Cell Biology may 2003; vol. 100 no. 10, 5807-5812. Mustapha Zeddou, Alexandra Briquet, Biserka Relic. "The umbilical cord matrix is a better source of mesenchymal stem cells (MSC) than the umbilical cord blood". Cell Biology International 2010, 34, 693–701. Nakamura S, Yamada Y, Katagiri W, Sugito T. "Stem cell proliferation pathways comparison between human exfoliated deciduous teeth and dental pulp stem cells by gene expression profile from promising dental pulp". J Endod, 2009; 35:1536-1542. Nardo, NB. "Mesenchymal stem cells". Handb Exp Pharmacol 2006; p 174. Payushina OV, Domaratskaya EI, Starostin VI. "Mesenchymal Stem Cells: sources, phenotype, and differentiation potential". Biology Bulletin, 2006:33(1):6-25. Peris J. L, J. Prat, R. Dejoz, M. Comin. "Proteínas morfogenéticas óseas (BMPs): Efecto de la proteína osteogénica-1 (OP-l/BMP-7) en la condrogénesis y osteogenesis". Rev Esp Cir Osteoart 1996; 31: 37-48. Phil Barnett, Maurice J. B. van den Hoff. "Cardiac regeneration: different cells same goal". Med Biol Eng Comput 2011, 49:723–732. Pittenger MF, Mackay AM, Beck SC, Jaiswal RK, et al. "Multilineage potential of adult human mesenchymal stem cells". Science 1999; 284:143-7. Reinisch A, Bartmann C, Rohde E, Schallmoser K, et al. "Humanized system to propagate cord blood-derived multipotent mesenchymal stromal cells for clinical application". Reg Med 2007; 2:371-82. R-L Pan, Y Chen. "Hepatic differentiation by fetal liver-conditioned medium". Cytotherapy 2008; Vol. 10, No. 7, 668-675. Rui-Xia Xu. "Mesenchymal stem cells promote cardiomyocyte hypertrophy in vitro through hypoxia-induced paracrine mechanisms". Clinical and Experimental Pharmacology and Physiology 2009; 36, 176–180. Sakaguchi Y, Sekiya I, Yagishita K. "Suspended cells from trabecular bone by collagenase digestin become virtually identical to mesenchymal stem cells obtained from marrow aspirates". Blood 2004; 104:2728-35. Salgado A. J.; Coutinho O. P. and Reis R. L. "Bone tissue engineering: state of the art and future trends". Macromol Biosci 2004 August 9; 4 (8):743-65. Schiller Katherine R, Marion R Zillhardt, Jeremy Alley. "Secretion of MCP-1 and other paracrine factors in a novel tumor-bone coculture model". BMC Cancer 2009, 9:45. Stiehler, Maik. "Cancellous bone allograft seeded with human mesenchymal stromal cells: a potential good manufacturing practice-grade tool for the regeneration of bone defects". Cytotherapy. September 2010; Vol. 12, No. 5, P658-668. Strem BM, Hicok KC, Zhu M, Wulur I et al. "Multipotential differentiation of adipose tissue-derived stem cells". Keio J Med, 2005; 54(3):132-141. Takashima Y, Era T, Nakao K, Kondo S. "Neuroepithelial cells supply an initial transient wave of MSC differentiation", Cell 2007; vol. 129, no. 7, pp. 1377-1388. Tang YL, Zhao Q, Qin XY et al. "Paracrine action enhances the effects of autologous mesenchymal stem cell transplantation on vascular regeneration in rat model of myocardial infarction". Ann. Thorac. Surg. 2005; 80: 229–37. Tomoki Nampo. "A New Method for Alveolar Bone Repair using Extracted Teeth for the Graft Material". Journal of Periodontology sep 2010; V 81, N 9. Tontonoz, P.E, Hu, B.M. Spiegelman. "Stimulation of adipogenesis in fibroblasts by mPPAR2, a lipid activated transcription factor". Cell 1994; 79:1147-1156. Tsai et al. "A feeder-free culture using autogeneic conditioned medium for indifferentiated growth of human embryonic stem cells: Comparative expression profiles of mRNAs, microRNAs and proteins among different feeders and conditioned media". BMC Cell Biology 2010; 11:76. Wagner W, Wein F, Seckinger A, Frankhauser M, Wirkner U et al. Comparative characteristics of mesenchymal stem cells from human bone marrow, adipose tissue and umbilical cord blood. Exp Hematol, 2005; 33:1402-1416. Wang, Hung, Peng. "Mesenchymal Stem Cells in the Wharton's Jelly of the Human Umbilical Cord". Stem Cells 2004; 22:1330–1337. Weinzierl K, Hemprich A, Frerich B. "Bone engineering with adipose tissue derived stromal cells". J Craniomaxillofac Surg, 2006; 34: 466-471. Xu. RH, RM Peck, DS Li. "Basic FGF and suppression of BMP signaling sustain undifferentiated proliferation of human ES cells." Nature Methods, 2005. Yang M, QJ Ma, GT Dang. "In vitro and in vivo induction of bone formation based on ex vivo gene therapy using rat adiposederived adult stem cells expressing BMP-7". Cytotherapy 2005; Vol. 7, No. 3, 273-281. Yang S, Leong K. F, Du Z, Chua C. K. "The design of scaffolds for use in tissue engineering. Part I. Traditional factors". Tissue Eng dec 2001; 7(6):679-89. Zapata. Agustín G. "Bioética e Investigación con Células Troncales". Universidad Complutense de Madrid. Instituto de Salud Carlos III. Zurita M., Aguayo C., Bonilla C. "Co-cultivo de celulas madre adultas mesenquimales y celulas de Schwann en presencia de membranas de policarbonato". Patologia del Aparato Locomotor, 2007; 5 (2): 103-109.
Collections