Publication:
A two-stage collision at the origin of Pangea: the allochthonous Variscan terranes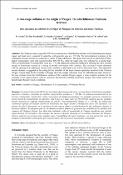 Advisors (or tutors)
Editors
Publisher
Sociedad Geológica de España.
Abstract
The Variscan suture exposed in NW Iberia contains two allochthonous terranes with Gondwanan provenance (upper and basal units), separated by ophiolites with protolith ages at c. 395 Ma. The tectonothermal evolution of the continental terranes records two consecutive events of deep subduction. The upper units record an initial high-P/ultrahigh-P metamorphic event that occurred before 400-390 Ma, while the basal units were affected by a second high-P/low-to-intermediate-T metamorphic event at c. 370 Ma. Repeated continental subduction affecting the most external margin of Gondwana occurred in a setting of dextral convergence with Laurussia. The two high-P events alternated with the opening of an ephemeral oceanic basin, probably of pull-apart type, in Early Devonian times. This ephemeral oceanic domain is suggested as the setting for the protoliths of the most common ophiolites involved in the Variscan Orogen. Current ideas for the assembly of Pangea advocate a single collisional event in Carboniferous times. However, the new evidence from the allochthonous terranes of the Variscan Orogen suggest a more complex scenario for the assembly of the supercontinent, with an interaction between the colliding continental margins that started earlier and lasted longer than previously considered.
La sutura Varisca del NW de Iberia contiene dos terrenos alóctonos con procedencia Gondwánica (unidades superiores y basales), separadas por ofiolitas con protolitos datados en c. 395 Ma. La evolución tectonotermal de los terrenos continentales registra dos eventos consecutivos de subducción profunda. Las unidades superiores registran un evento inicial de metamorfismo de alta/ultra- alta-P que tuvo lugar antes de 400-390 Ma, mientras que las unidades basales muestran un segundo metamorfismo de alta-P y baja-intermedia-T datado en c. 370 Ma. La subducción continental repetida del margen externo de Gondwana tuvo lugar durante convergencia dextra con Laurussia. Los eventos de alta-P alternaron con la apertura de una cuenca efímera, probablemente de tipo pull-apart, durante el Devónico Inferior. Se interpreta que en este dominio oceánico efímero se generaron los protolitos de las ofiolitas más comunes del Orógeno Varisco. Las ideas más habituales sobre el ensamblado de Pangea consideran una colisión simple durante el Carbonífero. Sin embargo, las nuevas evidencias obtenidas en los terrenos alóctonos del Orógeno Varisco sugieren un escenario más complejo para el ensamblado del supercontinente, con una interacción entre los márgenes continentales colisionantes que comenzó antes y duró más de lo inicialmente considerado.
Collections