Publication:
El anclaje de la pobreza y la COVID-19. Las contradicciones entre la realidad y las políticas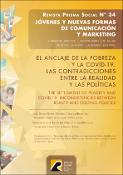 Files
Advisors (or tutors)
Editors
Publisher
Fundación iS+D para la Investigación Social avanzada
Abstract
El artículo expone algunos resultados de la evaluación realizada sobre el proyecto europeo ProActive Case-based Targeted model for social inclusión (PACT) cuyo principal objetivo era la implantación y evaluación de un nuevo modelo de intervención desde los servicios sociales para atender a personas que dependen de las ayudas sociales . El modelo implica un cambio en la forma de intervenir de los/las profesionales y en el cambio de rol de las personas perceptoras de las ayudas. Frente al modelo clásico de gestión de recursos de acuerdo a demandas y necesidades, se plantea un modelo basado en la gestión del plan de caso, el enfoque apreciativo, el empoderamiento de las personas dependientes de las ayudas públicas y el trabajo en red como ejes del proyecto. El/la profesional es un facilitador/a de los proyectos vitales y propuestas de las personas demandantes de las ayudas, que pasan a ser protagonistas del proceso de superación de su situación de vulnerabilidad. La situación producida por la COVID-19 ha puesto en riego los logros y la viabilidad de la implementación del modelo experimentado en el proyecto PACT al haber afectado de forma directa al sistema de empleo y haberse incrementado las situaciones de vulnerabilidad.
The article expounds some of the results of the evaluation carried out on the «ProActive Casebased Targeted model for social inclusion (PACT)», a European project whose main objective was to implement and evaluate a new social services intervention model to attend to welfare dependent people. The model called for a change in both, the way in which professionals intervene as well as in the role that dependent people play. Moreover, in comparison to the traditional model, based in managing resources according to the demands and needs, the model proposed by the project is based on the management of the case plan, the appreciative approach, the empowerment of welfare dependent people and networking as axes of the draft. Professionals are now considered as facilitators of the vital projects and proposals of those people seeking the aid, who become the main actors in the process of overcoming their situation of vulnerability. The situation caused by the COVID-19 has jeopardized the achievements and viability of the implementation of the model introduced in the PACT project, as it directly affected the employment system and increased, in number, the vulnerability situations.
Collections