Publication:
Jóvenes y voluntariado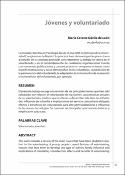 Authors
Advisors (or tutors)
Editors
Abstract
El presente trabajo recoge una revisión de los principales temas que han sido estudiados con relación al voluntariado de los jóvenes: características actuales de su voluntariado, motivos que les llevan a desarrollar este tipo de actividades, influencia de la familia e implicaciones del servicio comunitario obligado, efectos y beneficios del voluntariado para este perfil poblacional e influencia de las nuevas tecnologías. Se resumen las principales aportaciones teóricas y empíricas en cada caso.
This work includes a review of the main issues that have been studied in relation to the volunteering of young people: current features of volunteering, reasons that lead them to develop this type of activity, family influence and implications of mandatory volunteerism, effects and benefits of volunteering,and influence of new technologies. The main theoretical and empirical contributions in each subject are summarized.
Collections