Publication:
Einstein equations in vacuum as integrability conditions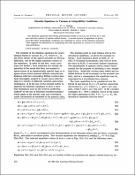 Advisors (or tutors)
Editors
Publisher
American Physical Society
Abstract
The Einstein equations describing gravitational fields in vacuum are written as a compact exterior system of spinor-valued forms. A second system of equations is given, such that their integrability conditions are satisfied by virtue of the Einstein equations. This suggests the possibility of integrating the field equations by means of an inversetype procedure.
Description
©1984 The American Physical Society. The author wishes to thank Dr. F. Guil for numerous discussions. Partial financial support by Comisión Asesora de Investigación Científica y Técnica is gratefully acknowledged.
Citation
1. D. Kramer, H. Stephani, E. Herlt, and M. MacCallam, Exact Solutions of Einstein's Field Equations (Cambridge Univ. Press, Cambridge, 1980). 2. V. A. Belinskiῐ and V. E, Zakharov, Zh. Eksp. Teor. Fix. 75, 1955 (1978) [Sov. Phys. JETP 48, 985 (1978)]. 3. B. K. Harrison, Phys. Rev. Lett. 41, 1197, 1935(E) (1978); G. Neugebauer, J. Phys. A 12, L67 (1979); F.J. Chinea, Phys. Hev. Lett. 50, 221 (1983). 4. F.J. Ernst, J. Math. Phys. 19, 489 (1978).
Collections