Publication:
Uso de Sistemas de Información Geográfica para el cálculo del volumen de los materiales emitidos en la erupción de 1971 del volcán Teneguía (La Palma, Islas Canarias)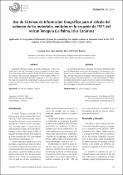 Advisors (or tutors)
Editors
Publisher
Sociedad Geológica de España
Abstract
Los Sistemas de Información Geográfica (SIG) son una herramienta cada día más indispensable en el campo de la Geología. Para demostrar su potencial, se ha realizado un análisis espacial tridimensional en ArcGIS 10.0 a partir de redes irregulares de triángulos (TIN) formados por las topografías previa y posterior a la erupción del año 1971 del volcán Teneguía (La Palma). La finalidad del artículo es calcular el volumen eruptivo en superficie, discutir las medidas llevadas a cabo en el estudio de la erupción en 1974, y tratar de conseguir un resultado volumétrico más exacto.
Geographic Information Systems (GIS) are becoming day to day an essential tool in the field of Geology. To show its potential, we have used a three-dimensional spatial analysis in ArcGIS 10.0 from triangulated irregular networks (TIN) formed by topographies for the volcano Teneguía (La Palma, Canary Islands) before and after its eruption in 1971. The purpose of the study is to calculate the surface eruptive volume, discuss the measures carried out after the eruption in 1974, and try to get a more accurate volumetric result.
Collections