Publication:
Mariano Velázquez de la Cadena (1778-1860) : catálogo bibliográfico, manuales de enseñanza de español y labor lexicográfica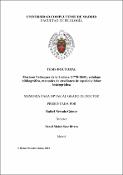 Authors
Advisors (or tutors)
Editors
Publisher
Universidad Complutense de Madrid
Abstract
Esta tesis tiene como objetivo presentar y analizar la obra completa de Mariano Velázquez de la Cadena, profesor de español en Estado Unidos que vivió entre los años 1778 y 1860, contextualizando dicha obra en su entorno histórico y pedagógico desde el punto de vista de la Historiografía Lingüística. En el capítulo 1 o introducción se fijan los objetivos, el estado de la cuestión y la metodología. De cara a concretar los objetivos se han realizado cuatro preguntas de investigación relacionadas con la obra de Velázquez de la Cadena con el propósito de contestarlas en las conclusiones. Sobre el estado de la cuestión, se presentan los artículos y libros que han configurado la base para la elaboración de esta tesis en la que se ha aplicado el método filológico desarrollado en Sáez Rivera (2014) y el método lapesiano tomado de la síntesis que realiza Girón Alconchel (2001), ambos expuestos y explicados en el apartado dedicado a la metodología. El capítulo 1 concluye con un apartado dedicado a describir el modus operandi que se ha seguido para la realización de las fichas bibliográficas que componen el anexo a esta tesis: una ficha por cada una de las doce obras de nuestro autor. Después de la introducción se realiza un análisis sobre el contexto histórico y pedagógico, en el ámbito de la enseñanza de lenguas extranjeras, que se vivió a finales del siglo XVIII y del siglo XIX con el fin de relacionar dichos contextos con la obra de nuestro autor. A continuación, se incluye un capítulo por cada una de las obras de Velázquez de la Cadena, en los que además de describir el contenido de los libros se han comparado con otras obras de su época, tomando en muchos casos como referencia las publicadas por la Real Academia Española...
This thesis aims to present and analyze the complete work of Mariano Velázquez de la Cadena, a Spanish teacher in the United States who lived between 1778 and 1860, contextualizing said work in its historical and pedagogical environment from the point of view of Historiography Linguistics. In chapter 1 or introduction the objectives, the state of the art and the methodology are set. In order to specify the objectives, four research questions related to the work of Velázquez de la Cadena have been asked in order to answer them in the conclusions. On the state of the question, the articles and books that have formed the basis for the elaboration of this thesis are presented, in which the philological method developed in Sáez Rivera (2014) and the Rafael Lapesa´s method, taken from the synthesis carriedout by Girón Alconchel (2001), have been applied, both exposed and explained in the section dedicated to methodology. Chapter 1 concludes with a section dedicated to describing the modus operandi that has been followed to produce the bibliographic files that make up the annex to this thesis: one file for each of the twelve works by our author. After the introduction, an analysis is carried out on the historical and pedagogical context, in the field of foreign language teaching, which took place at the end of the 18th and 19th centuries, in order to relate these contexts with the work of our author. Next, a chapter is included for each of the works by Velázquez de la Cadena, in which, in addition to describing the content of the books, they have been compared with other works of his time, taking in many cases as a reference those published by the Real Academia Española...
Description
Tesis inédita de la Universidad Complutense de Madrid, Facultad de Filología, leída el 21-03-2022
Collections