Publication:
Inducción de cambios metabólicos e inflamatorios en aorta sana a partir de medios condicionados de pacientes con aneurisma de aorta abdominal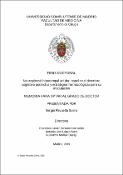 Files
Authors
Advisors (or tutors)
Editors
Publisher
Universidad Complutense de Madrid
Abstract
Los aneurismas de aorta abdominal (AAA) se definen como una dilatación localizada de la aorta del 150% de su diámetro normal. Su prevalencia es del 6% envarones, suponiendo la decimoséptima causa de muerte en varones mayores de 55 años. En las últimas décadas se han esclarecido ciertos procesos que conducen a la dilatación arterial y finalmente a la rotura aórtica. Entre estos procesos cabe destacar la destrucción de la matriz extracelular y la apoptosis de células musculares lisas en el contexto de un proceso inflamatorio crónico, con incremento del estrés oxidativo. Asimismo, se han identificado varios grupos celulares que participan en dicho proceso inflamatorio (linfocitos T y B, macrófagos, plaquetas). Más recientemente se ha observado que existe un predominio del metabolismo anaerobio en el tejido aórticoaneurismático. A pesar de los avances realizados para la comprensión de su fisiopatología, existen todavía aspectos de la misma no explicados, entre ellos, la causa que inicia dichos procesos.Los medios condicionados (MC) permiten exponer tejidos a sustancias desconocidas pero que pueden tener un efecto biológico en dichos tejidos, que puede ser estudiado. Es una herramienta útil para conocer qué grupos celulares son responsables de un proceso fisiopatológico cuyo mecanismo no es bien conocido.Mediante la exposición de aorta sana a distintos MC por grupos celulares de pacientes con AAA se pretenden inducir cambios inflamatorios y metabólicos característicos de esta patología, con el fin de conocer cuál de estos grupos celulares es el responsable del inicio de los procesos fisiopatológicos de los AAA...
Abdominal aortic aneurysms (AAA) are defined as a focal dilatation of the aorta of at least a 150% its normal diameter. In males, a prevalence of 6% has been estimated, and they are the 17th leading cause of death in men older than 55 years. In the last decades knowledge about the processes that lead to arterial dilatation and rupture has increased. These processes include the destruction of extracellular matrix and smooth muscle cell apoptosis in the context of chronic inflammation and an increase in oxidative stress. Several cellular groups had been identified to participate in chronic inflammation (T and B lymphocytes, macrophages, platelets). Recently, an increase in anaerobic metabolism in aneurysmatic aortic tissue has been described. Despite the advances made to understand aneurysm physiopathology, there are still aspects of it that remain unexplained, among them, the cause that initiates these processes. Conditioned media (CM) allow to expose tissues to unknown substances which may have a biologic effect in such tissues. This effect can be studied and measured. They are a useful tool to asses which cellular groups may be responsible for a physiopathologic process whose mechanism is scarce known. By means of the exposure of healthy aorta to different CM (obtained from cellular groups of patients with AAA), it is intended to induce characteristic inflammatory and metabolic changes described in AAA, in order to know which of these cell groups is responsible for the initiation of pathophysiological processes of AAA...
Description
Tesis de la Universidad Complutense de Madrid, Facultad de Medicina, Departamento de Cirugía, leída el 02-07-2018
Collections