Publication:
Ecofisiología y diversidad molecular de los líquenes neuropogonoides del género Usnea en Tierra del Fuego y la Antártida marítima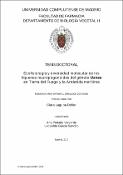 Files
Authors
Advisors (or tutors)
Editors
Publisher
Universidad Complutense de Madrid
Abstract
El objetivo principal de la presente tesis doctoral fue investigar las relaciones entre microclima, diversidad y funcionamiento en las comunidades de tundra criptogámica antártica y subantártica, a través del estudio de los líquenes neuropogonoides del género Usnea. Estos organismos, han sido señalados como potenciales bioindicadores del calentamiento global (Ellis & Yahr 2011), y dominan gran parte de los ecosistemas terrestres de la Antártida marítima. Dicha región que se está viendo especialmente afectada por el aumento de temperaturas (Turner et al. 2005; Smith 1994; Convey 2006). Se han sugerido diversas estrategias para la evaluación del impacto del calentamiento sobre los ecosistemas naturales. Entre ellas, Howard-Williams et al. 2006 plantean el uso de comparaciones entre lugares con vegetación similar pero de clima ligeramente más cálido o más frío, lo cual se puede alcanzar a través de desplazamientos latitudinales, así como mediante el uso de modelos a pequeña escala sobre especies individuales. Tierra del Fuego, debido a las similitudes climáticas y florísticas con la Antártida, se incluye entre las regiones subantárticas (Rozzi 2008). En este contexto, se plantea el presente estudio comparativo entre Isla Livingston (Islas Shetland del Sur, Antártida marítima) e Isla Navarino (Tierra del Fuego, Chile), dos localidades separadas por 7° de latitud y por los cerca de 1000 km de océano del paso de Drake, y que tienen en común la presencia de estas comunidades de tundra dominadas por líquenes del género Usnea, características de ambientes polares y alpinos del hemisferio sur (Walker 1985)...
This PhD thesis entitled "Ecophysiology and molecular diversity of Usnea genus neuropogonoid lichens in Tierra del Fuego and maritime Antarctic" was elaborated by Clara Laguna Defior under the supervision of Ana Pintado Valverde and Leopoldo García Sancho, and presented at Universidad Complutense de Madrid in June 2016. The main goal of the thesis was to investigate the relationships between microclimate, diversity and functioning of the Antarctic and subantarctic cryptogamic tundra communities dominated by neuropogonoid lichens from the genus Usnea. The neuropogonoid lichens have been suggested to be potential bioindicators of global warming (Ellis & Yahr 2011) and contribute to many terrestrial ecosystems in the maritime Antarctic (Walker 1985). The latter region has shown substantial recent rises in temperature (Turner et al. 2005) with consequential effects on plant distribution (Smith 1994; Convey 2006). Comparisons between places with similar vegetation but slightly warmer or colder climates can be achieved through the use of various strategies. First, latitudinal gradients can be used as a proxy to assess potential global warming impacts on natural ecosystems, or, alternatively, lower scale models of individual species can be utilized (Howard-Williams et al. 2006). Tierra del Fuego is the closest land mass to Antarctica and, due to climatic and floristic similarities it has been included amongst the subantarctic regions (Rozzi 2008). Bearing this in mind, the current study was developed to compare Livingston Island (South Shetland Islands) and Navarino Island (Tierra del Fuego, Chile). These two localities are separated by 7° latitude degrees and about 1000 km of ocean known as Drake Passage, and also have in common the presence of these plant formations dominated by Usnea genus lichens that are typical of polar and alpine regions in the southern hemisphere...
Description
Tesis inédita de la Universidad Complutense de Madrid, Facultad de Famacia, Departamento de Biología Vegetal II, leída el 28/07/2016
Collections