Publication:
Demosponjas y Hexactinélidas fósiles del Paleozoico de la Península Ibérica.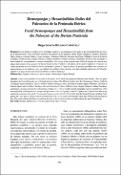 Authors
Advisors (or tutors)
Editors
Publisher
Universidad Complutense de Madrid, Servicio de Publicaciones
Abstract
En este artículo se estudian nueve localidades españolas y una portugüesa en las cuales se han encontrado fósiles de esponjas de edad paleozoica. Estas localidades presentan afloramientos de las siguientes edades: Murero (Zaragoza), Cámbrico; Barrancos (Baixo Alentexo, Portugal) Silúrico; Arnao (Asturias) y Polentinos (Palencia) Devónico; Las Pilitas 2 (Badajoz), Sierra de la Estrella (Córdoba), Villafeliz (León), Vergaño (Palencia), Ándara (Cantabria) y Demués (Asturias), Carbonífero. En dos de estas localidades se han levantado las correspondientes columnas estratigráficas, a la vez que se han recogido restos fósiles de esponjas, así como de otros grupos representados en la asociación. Se han reconocido en total 17 géneros y 20 especies, de los cuales 12 géneros y 14 especies son citados por primera vez en la Península Ibérica, incluyendo 5 géneros y 7 especies nuevos. Se presenta, por último, una reconstrucción palaeoecológica de los ambientes en los que habitaron los poríferos fósiles descritos. Los datos obtenidos indican que el Carbonífero superior es la época de mayor diversidad de poríferos de todo el Paleozoico. [ABSTRACT] A total of ten localities are included in this article, all of which haver produced Paleozoic fossil Porifera. They are spread throughout the Iberian Peninsula: one in Porgugal and nine in Spain. The different localities have the following ages: Murero, Cambrian of Zaragoza (Spain); Barrancos, Silurian of Baixo Alentexo (Portugal); arnao, devonian of Asturias (Spain), Polentinos, Devonian of Palencia (Spain) and Las Pilitas 2 (Badajoz), Sierra de la Estrella (Córdoba), Villafeliz (León), Vergaño (Palencia), Ándara (Cantabria), and Demués (Asturias), all from the Carboniferous of Spain. Two of these localities lacked stratigraphic sections included here, which were done while collecting the fossil sponges and speciments of other fossil groups. A total of 17 genera and 21 species have been recognized in the collection, from which 12 genera and 14 species arre described for the first time from the Iberian Peninsula, including 5 new genera and 7 new species. Paleoecological reconstructions of the various marine environments where these Porifera lived are proposed here. The results indicate that Paleozoic poriferan diversity in the Iberian Peninsula was highest during the upper Carboniferous.
Collections