Publication:
Estudio comparativo de la seguridad de distintas vacunas vivas atenuadas frente al Síndrome Reproductor y Respiratorio Porcino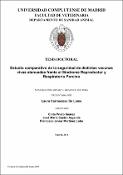 Files
Authors
Advisors (or tutors)
Editors
Publisher
Universidad Complutense de Madrid
Abstract
El Síndrome Reproductor y Respiratorio Porcino (SRRP) es una de las enfermedades con mayor significación en la producción porcina a escala mundial. Sus principales manifestaciones son un fallo reproductivo en las hembras gestantes y alteraciones respiratorias en animales en crecimiento, fundamentalmente en lechones. El agente causal del SRRP es un virus de pequeño tamaño, con envoltura y ARN de cadena sencilla y de polaridad positiva perteneciente a la familia Arteriviridae. Aunque desde el punto de vista clínico las cepas del VSRRP en América del Norte y Europa son muy similares, sus diferencias en la virulencia y en sus propiedades antigénicas y genéticas han llevado a clasificar los distintos aislados del virus en dos genotipos. El gran impacto de esta enfermedad en la industria porcina ha impulsado el desarrollo de varios tipos de vacunas, incluyendo vacunas inactivadas y vivas modificadas (MLV) para el control de la enfermedad tanto en cerdos en crecimiento como en cerdas reproductoras. Las vacunas vivas modificadas basadas en el genotipo 1 y 2 fueron desarrolladas inicialmente para el control del VSRRP en cerdos en crecimiento, sin embargo, algunas de ellas han sido registradas, más tarde, para el control de la forma reproductiva de este síndrome. No obstante, a pesar de la amplia comercialización de los diversos productos desarrollados por diferentes laboratorios, han generado una gran polémica debido, fundamentalmente, a cuestiones relacionadas con la seguridad de las mismas. Estas sospechas derivan tanto de los resultados llevados a cabo en condiciones experimentales como de indicios procedentes de la aplicación de dichas vacunas en condiciones de campo. Así, estudios experimentales llevados a cabo con la vacuna, basada en un aislado de genotipo 2, Ingelvac® PRRS MLV han demostrado la replicación del virus vacunal en los cerdos vacunados causando una viremia detectable, persistiendo en el organismo de los animales vacunados durante semanas y eliminándose por distintas rutas pudiendo transmitirse a animales susceptibles no vacunados. Además, el virus vacunal es capaz tanto de atravesar la barrera placentaria e infectar a los fetos en desarrollo como de infectar a los recién nacidos durante la lactación. Por otra parte, en el caso de esta cepa vacunal existen sospechas de reversión a virulencia basándose en similitudes encontradas entre la cepa vacunal y algunas cepas que han producido patología clínica en áreas donde se ha empleado la vacuna, por lo que hay que tener presente que existe un riesgo potencial de recombinación de las cepas vacunales con cepas que circulen en la población, pudiendo dar lugar a la reversión a virulencia o incluso a nuevas cepas que sean más virulentas que las existentes antes de la vacunación...
Porcine Reproductive and Respiratory Syndrome (PRRS) is one of the most significant diseases affecting swine production worldwide. The main clinical outcomes of the disease are reproductive failure in gestating sows and respiratory distress in growing pigs, especially in piglets. The causal agent, PRRS virus (PRRSV), is a small, enveloped, single-stranded positive-sense RNA virus of the Arteriviridae family. Although, in general, PRRS is clinically similar in North America and Europe, the respective strains differ in virulence and in antigenic and genetic properties. These differences have led to the classification of PRRSV isolates into two genotypes. The huge impact of PRRS in the swine industry has stimulated the development of various types of vaccines, including inactivated vaccines and modified-live virus (MLV) vaccines, for the control of the disease in both growing pigs and breeding females. MLV vaccines based on type 1 and type 2 viruses were originally developed for the control of PRRS in growing pigs, although some of them are now registered for the control of the reproductive form of PRRS. However, despite the extensive marketing of the various products developed by different laboratories, they have generated much controversy, mainly related to the safety of them. These suspicions derive both from the results carried out under experimental conditions as the evidences from the application of such vaccines in field working conditions. Thus, experimental studies carried out with Ingelvac® PRRS MLV, a vaccine based on a type 2 isolate, have demonstrated that vaccine virus replicates in vaccinated pigs, causes detectable viremia,persists in the organism of vaccinates for weeks and is shed by different routes causing the infection of sentinel pigs. In addition, the virus can cross the placental barrier in pregnant sows infecting the developing fetuses and can be transmitted to naive newborn piglets during lactation. Even more, reversions to virulence have been suspected in the field based on the similarity between the vaccine strain and some strains that have caused clinical problems in areas where the vaccine has been used, so it must be remembered that there is a potential risk of recombinant vaccine strains with strains circulating in the population and can lead to reversion to virulence or, even more, to the appearance of new strains that are more virulent than those existing prior to vaccination...
Description
Tesis de la Universidad Complutense de Madrid, Facultad de Veterinaria, Departamento de Sanidad Animal, leída el 03/07/2017
Collections